This is a paid partnership with Desktop.com.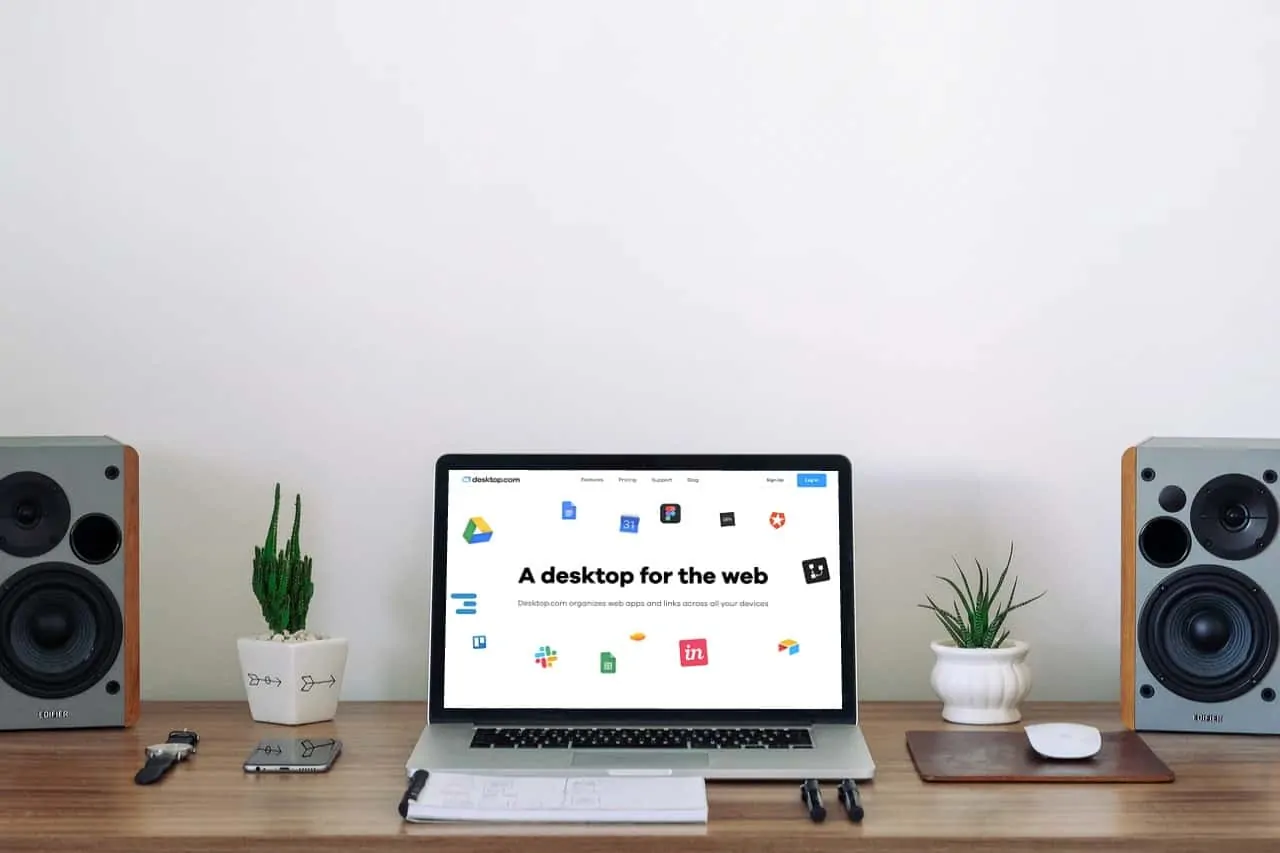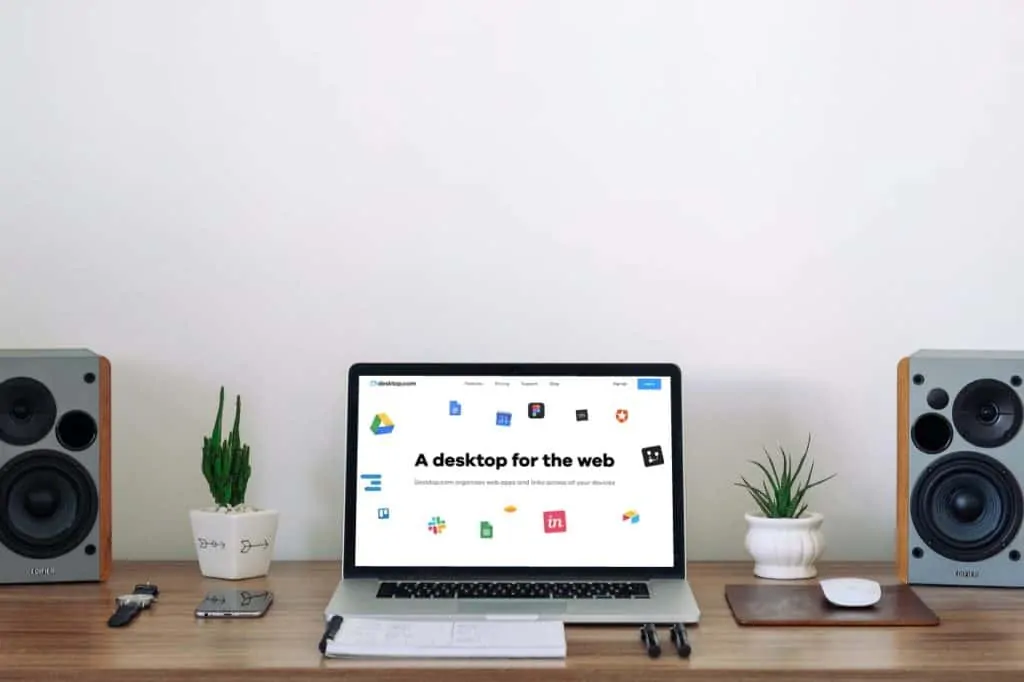 If you're like me (and most people), you have multiple devices and each device serves multiple purposes. Our devices stick with us through our work lives and our personal lives, but there's often one problem — these devices can't tell the difference between the different areas of our lives. So, we are stuck scrolling through home screens or searching through our computers to find the right application for the right time. Don't even get me started on trying to find a link that was emailed to me. Or was it texted to me? Wait, no, I think it was sent in Slack? Wherever it was, I can't find it when I need it. Even if I add it to my never-ending, always-disorganized bookmark list, there's no promising I'll find it, especially when I end up needing it on a different device than where I received it. This digital clutter can waste time, destroy productivity and exhaust users. 
There are many options to solving this problem — mass decluttering of your web, mobile, and desktop apps, getting rid of extra devices, or even the extreme of re-structuring your life to get rid of all smart devices. Each of these different strategies can be helpful to an extent, but they are not always realistic. That's exactly where Desktop.com steps in to lend a hand. Desktop.com is available as a web, desktop and mobile app that allows you to create a home desktop for all your devices that is automatically organized and easily customized for whatever you are working on. 
Rolf Larsen is the founder of Desktop.com and many other tech startups. As an entrepreneur, Larsen saw the clutter quickly build up in his own digital life and needed an answer. He and his team set out to solve the problem and landed upon Desktop.com which includes some amazing features that help you be more productive when working on your personal projects or when collaborating with others.
The Best App for Organizing Your Digital Life


Before we talk about all the features of Desktop.com, let me tell you my personal experience with the app. I have tried many different tools to declutter my desktop on my devices while still having everything easily accessible. Up until now, the only thing that has worked for me has been all manual labor, removing apps from my desktop, or just creating a folder that everything goes into on my desktop. But it has always been a struggle that I am constantly revisiting and it only works on my computer. Now, with Desktop.com I can create specific desktops for different workflows (or fun-flows if I'm just enjoying some internet time) that follow me from my computer at work, to my personal computer at home and my phone. I can even share desktops with my coworkers or family and friends so we can all be on the same page. 
I've truly never used a tool that simply works as well as Desktop.com does. It has allowed me to declutter my home screen on all of my devices. It also has allowed me to cut out distractions as when I am on a work desktop, I only have my work apps and links readily available so I only have them open at a time. It has given me the opportunity to bring even more of my minimalist values into my digital life where distractions flourish. 
So, let's discuss some of the main features that make Desktop.com one of the best digital organization tools I've ever used (plus a few features that their team is currently developing for future implementation). 
Top Current Features
One Desktop On Every Device
The staple feature of Desktop.com is that you can have the same desktop (even multiple desktops) that comes along with you from device to device. You can access your desktop through their desktop application, mobile app or even web app. This means you can access your personalized desktop on any device — personal computer, tablet, smartphone, or even public computers or any of the random computers you get assigned to at work or in school. 
Intuitive UI
Intuitive might be an understatement here. After a quick tutorial when you first sign-in to Desktop.com, you will know exactly what to do (you may not even need the tutorial if you are extra savvy). The user experience team at Desktop.com has created an app that is simple and easy to use yet powerful to get the job done. Whatever apps you use regularly, you can simply add to your desktop and even if they aren't in their library of thousands of the most popular apps, you can create your own app with a custom icon. No matter what, you can add the apps that matter most to you. You can even add simple links so you can have all of your apps and bookmarked websites on one platform.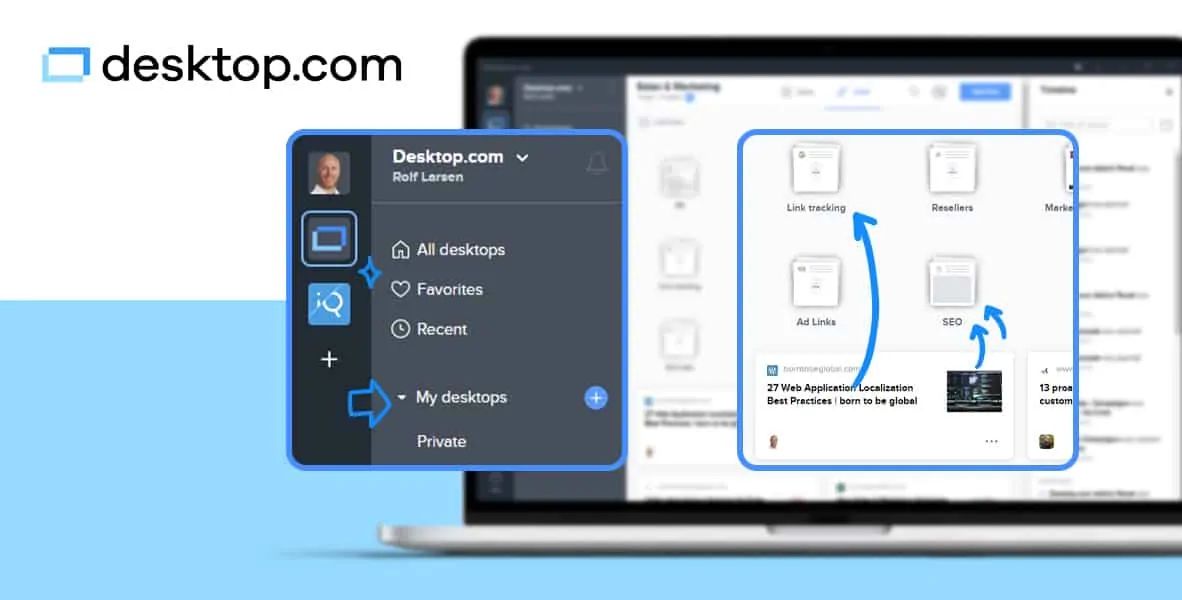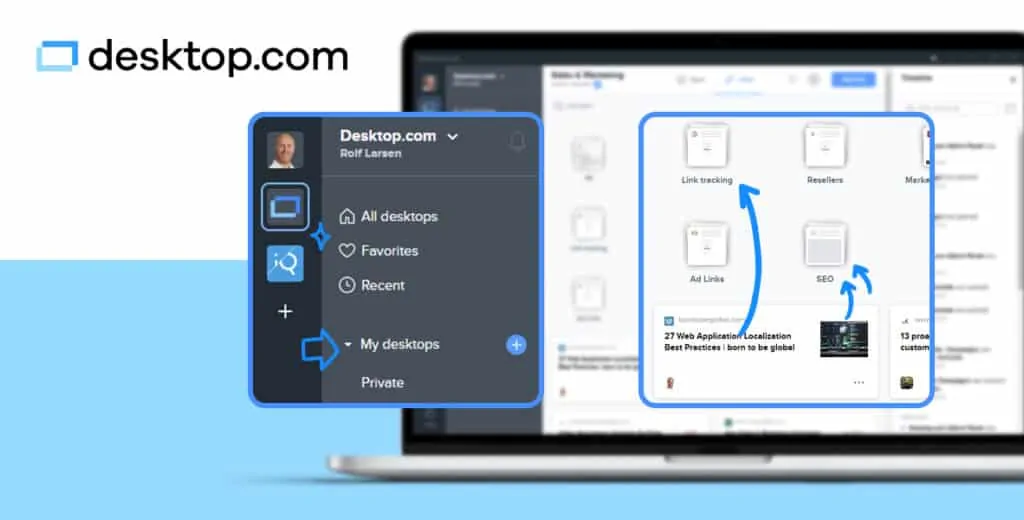 Automatic Organization
When you add an app to your desktop (whether from the Desktop.com library or creating your own), it is automatically tagged and categorized into a folder so you don't have to worry about placing all of your communication or creative apps together in a folder because it's already done for you. So, don't worry about organizing your apps beforehand, simply add them and get to work. Desktop.com is also a much better place to organize all of your links. You can organize your links in folders and with tags, plus, you can drag and drop links or folders between any of your desktops. Starting in November, you'll even be able to transfer all of your bookmarks from your browser automatically using a browser extension, I'll talk more on that later.
Single Sign-On (SSO)
You might be wondering now about signing in to all of your different apps when using Desktop.com? Fortunately, their team has thought about that and has Single Sign-On capabilities for many of the apps in their library. This allows you to sign in to your apps once, then Desktop.com securely keeps you logged in so you are ready to go right when you click on the app. SSO is not available on all apps but they are always working to add this feature to more apps. 
Create Multiple Desktops
Desktop.com allows you to create multiple different desktops for whatever your day looks like. For example, you may have multiple different workflows within your job or many different personal interests or projects. If you are a graphic designer, you may have a desktop for when you are doing your actual designing with Adobe Illustrator, Photoshop, even Canva or other design apps. Then, you can create different folders of links so you can create a folder of references for each project so they are right there on your desktop ready for your work. From there, you probably have a different workflow for collaborating with your team or your clients so you can create another desktop for that with apps like your email, Slack, Zoom along with whatever apps you use for presenting your work like Google Slides or Powerpoint. This is a great way to separate your workflows so you can really focus on the highest priority without distractions.
On a personal level, there are also an endless amount of use cases for the app. For example, I recently became a homeowner which means I have approximately 37 home improvement projects going on right now and another 85 ideas for future projects (not actually but it feels that way). I have desktops for both current and future projects with different folders for separate projects. Plus, I have it shared with my partner so we both can be adding our ideas and updates on our own time. Then, when I'm ready to wind down after a long week, I even have a desktop dedicated to some of my passions like gaming. I love playing strategy games so I have different folders set up for different games with guides and other links I need to access while playing.
Share Your Desktops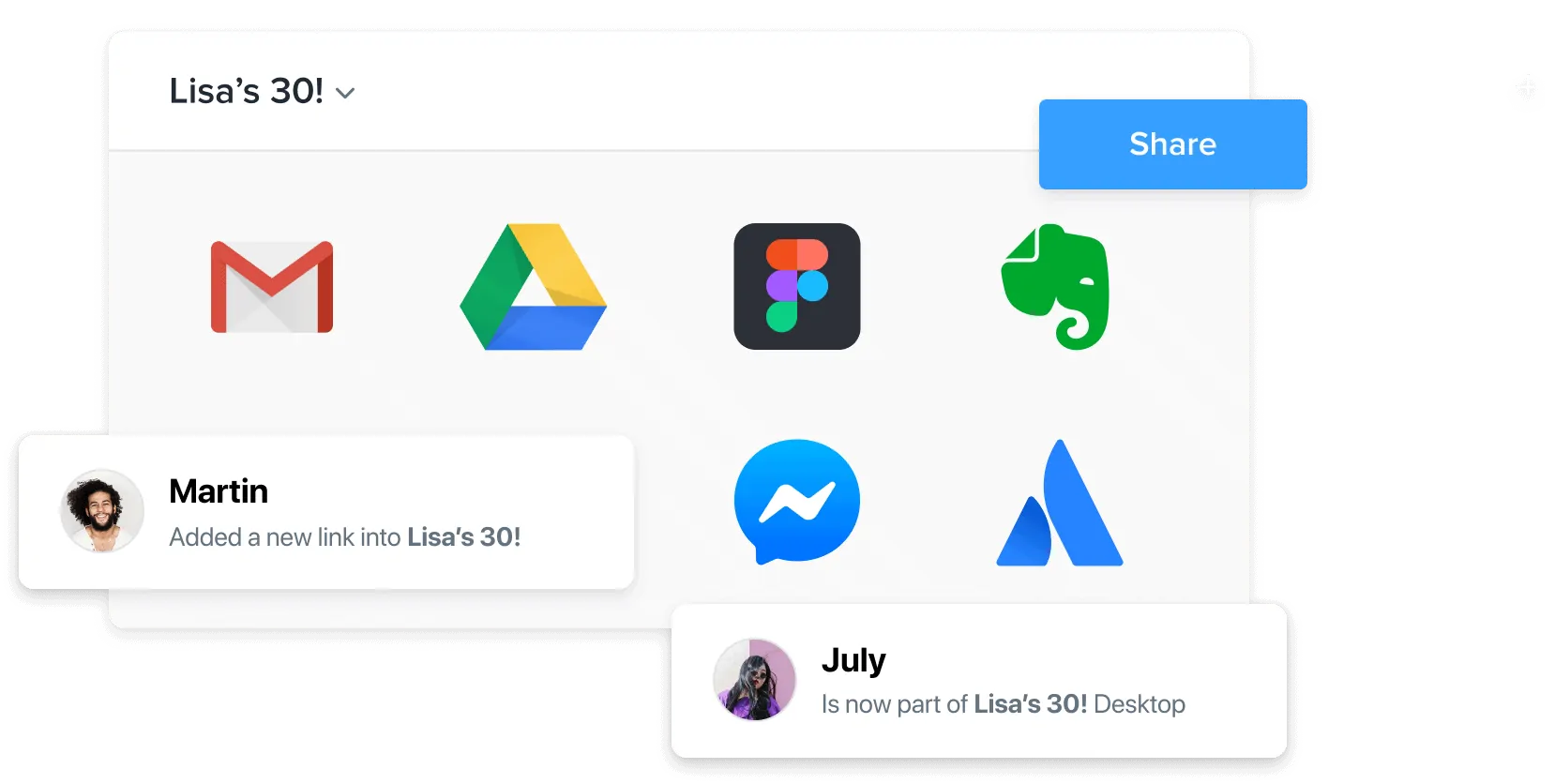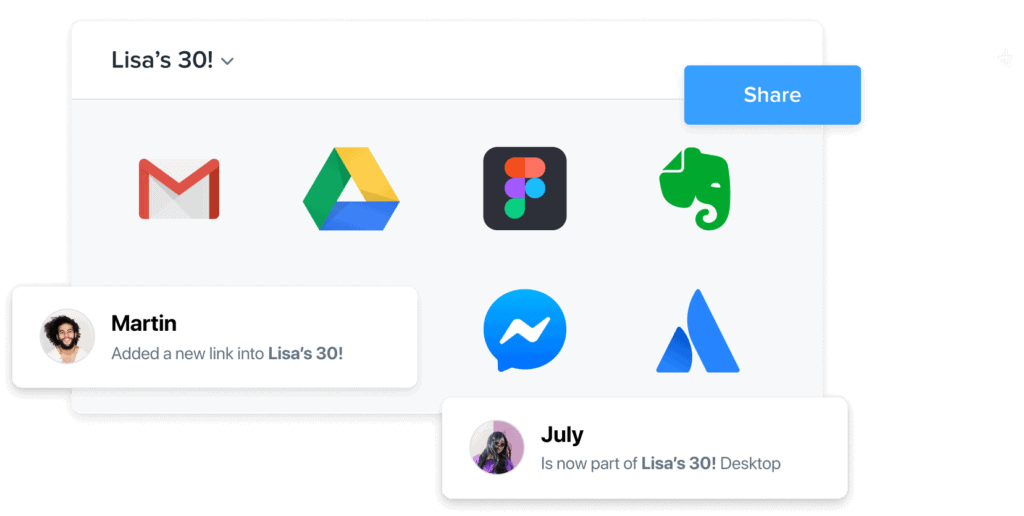 This feature is great if you are often working on teams whether it's your team at work or a group of friends planning a surprise birthday party. You can create a public desktop that you can then share with your colleagues or friends/family so everyone has the links or apps they will need for the task at hand. Personally, I love this feature as I onboarded a new team member recently at work. Instead of telling them to download X, Y, Z, and every other app they will need, I simply shared a desktop I created for them and they were good to go once they signed in. This also allowed me to share links to articles I wanted them to read and other training documents so they didn't have to dig through multiple emails from HR to get to them. 
Upcoming Features in November
Import Existing Bookmarks
By using a browser extension, Desktop.com will be able to import all of your existing bookmarks so you don't have to manually add the ones you want. From there, you can go ahead and delete the ones you don't use anymore or organize them in whatever way you want. I think this is most useful for new Desktop.com users unless you want to build up bookmarks in your browser then transplant them to your desktop.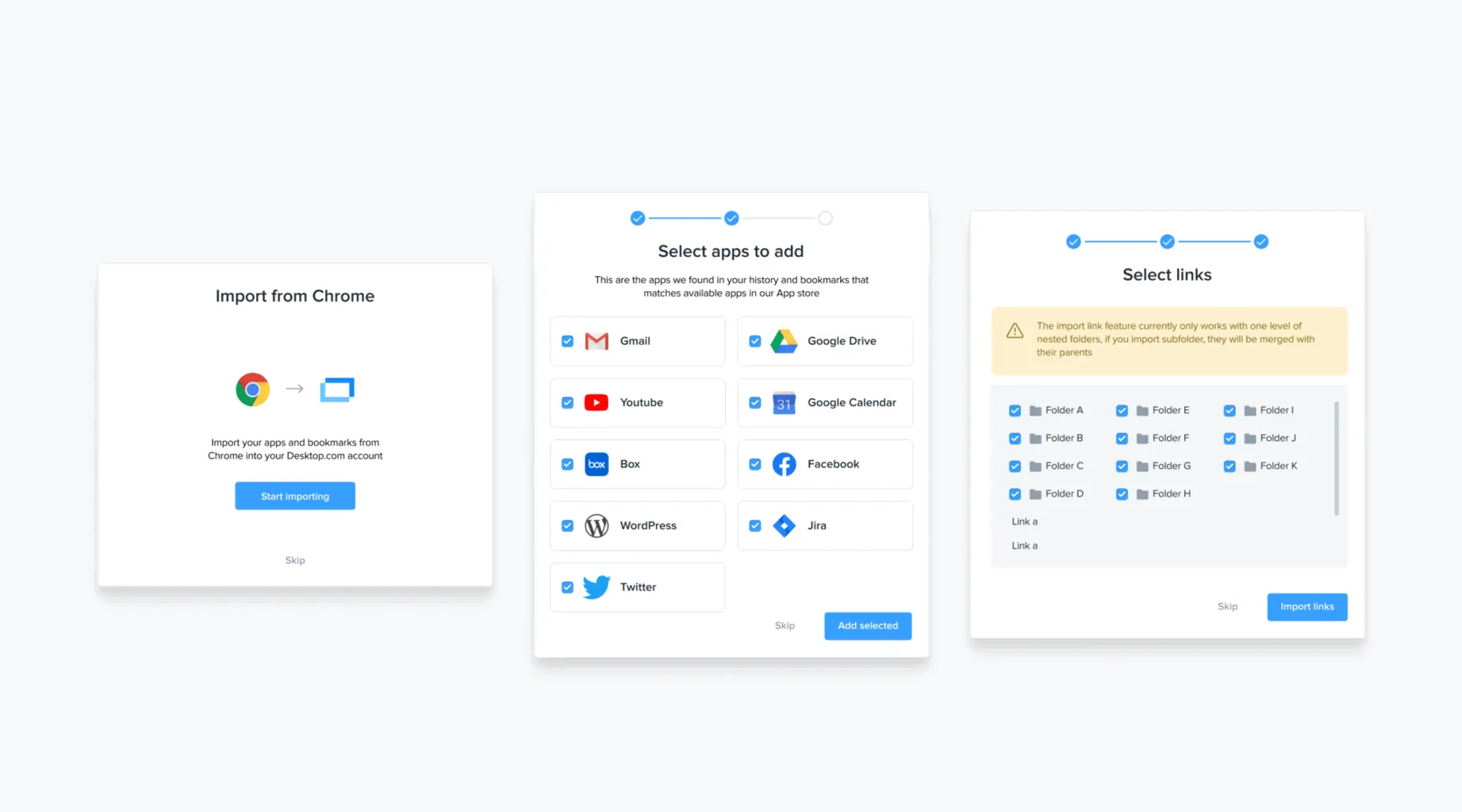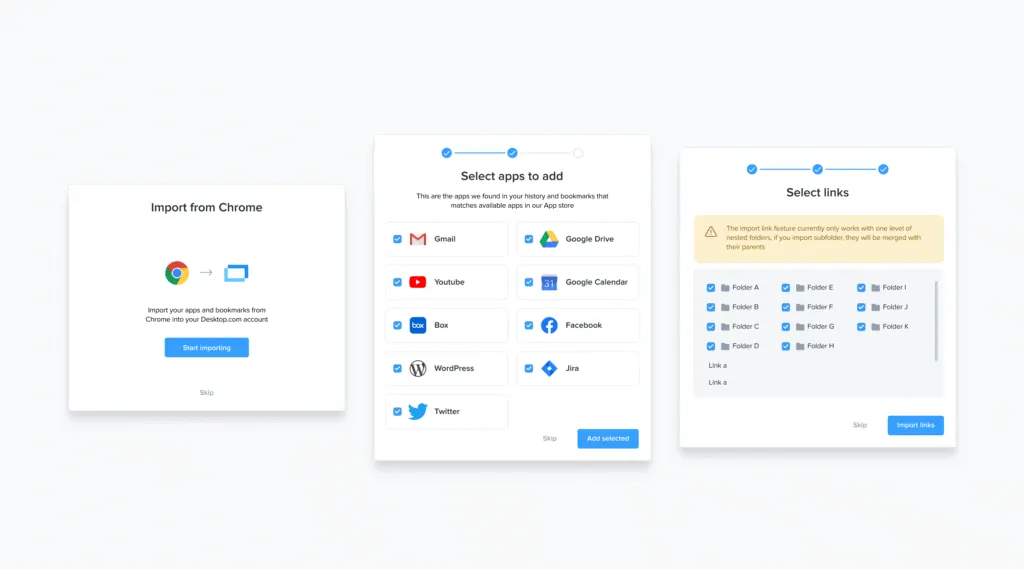 Smart Suggestions
Using the same browser extension for importing your browser bookmarks, Desktop.com will look at your bookmarks and history to give you smart suggestions of apps to add to your desktop. This helps if you use a lot of different web apps that you might not think of when you are creating your desktops. 
Desktop.com Pricing
Desktop.com is offered in two different categories, Personal and Business. You can sign up for any of these options on a 14-day free trial and then decide which features you need from there. If you decide free is all you want, there's an option for that. You'll get the most basic features of Desktop.com including the ability to create multiple desktops and unlimited links and apps on your desktops. From there, you can access SSO, the ability to share desktops, and more features in the Premium Personal account for just $5/month. Then, if you are planning to use Desktop.com with your team at work, you can access a Teams account for $8/month for each user which will give you all of the features they have to offer. In the future, they will also have an Enterprise option which will allow companies to customize the features they need.
As you use Desktop.com, keep in mind that this is an app in development, they are extremely keen to improve their product and love to hear ideas from their users. Overall, I think this is a great way to declutter your digital life, and with all the new features lined up to be released over the next few months, it'll only get better and better. If this all sounds helpful, sign up for a free account or a free trial of a premium account at Desktop.com.