When it comes to a process for decluttering and managing your home, it can be a challenge to put the right systems in place. Luckily, there are a ton of smart technology folks out there to help. Finding the right decluttering apps for selling your stuff, having the right information about what exists in your house, tracking to-do lists to make sure you're getting things done and other clutter clearing information can make your life significantly easier. Below is a list of applications that we have tried, trust, and would like to share with you.
We do not recommend you download all 59 apps, that would not be very minimalist… we provide 59 great options for you so you can find one or two that works best for you. After all, everyone is unique and will have their own unique ways of handling clutter in their lives.
Decluttering apps for selling items
Decluttr – In my opinion, Decluttr is the easiest way to declutter phones, electronics, books, games, DVDs, CDs and more. Those are categories that add up to a ton of clutter in your home. Decluttr allows you to send them your stuff (free shipping both ways) and will make an offer that you can choose to accept or have your items shipped back free of charge. Throw stuff in a shipping box and move on with a little cash in your pocket.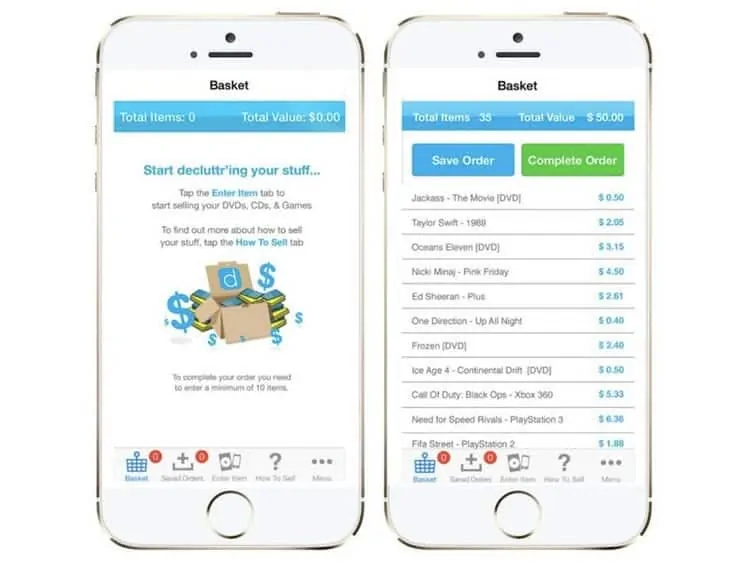 Offerup – Another candidate for my personal favorite decluttering app. Sell just about anything that you would like to get rid of by simply snapping a photo, setting a price, and writing a couple of lines of description. They have a great community and you can meet in person for payment or get paid digitally to mail items out. I've gone through massive decluttering binges by snapping photos of everything as I go and get a lot of it picked up the same day by nice folks.
Runners Up: Ebay, Craigslist, LetGo
Apps to reduce paper clutter
LegacyBox – if you are looking to declutter photos, videos, or audio tapes, LegacyBox is for you. You load up a box with cassette tapes, home videos, photos (slides or prints) and send it to them. They will digitize everything and give it back to you on a thumb drive, DVD or downloadable file. They also have a cloud app to see all your files. If you have any mementos that you absolutely can't get rid of, they will also ship back your items to you. While it's not technically a mobile app, it was too good not to include.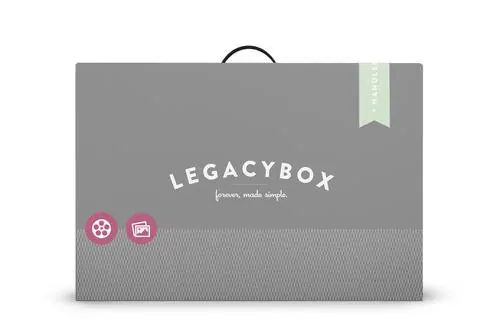 Adobe Scan – scanning app from Adobe that automatically recognizes text and creates a PDF or image of whatever you scan. It can turn documents into PDFs that you are able to edit, highlight and share using Adobe Acrobat Reader. It's a free app that offers in-app purchases. One of the coolest features is that it can recognize a business card, read the text, and add the contact information to the contacts on your phone.
Audible – One of the most powerful declutter apps that has cut down on hundreds of books that used to live in my home. I listen to Audible audiobooks while driving, working out, or even through my Alexa device in my kitchen. Make sure you use this link to get a discounted trial and 2 free audiobooks.
Hoopla – Hoopla is your entire local library in your pocket, including free access to ebooks, audiobooks, movies and music. You simply register with a local library card and you have instant access to the content you want to read. This is a great app for decluttering your bookshelf and avoiding purchases of new books, movies or music.
Babbel – Cut out the Rosetta Stone books and CDs, ditch the French dictionary and download Babbel. Learn any language through this simple app that takes you step-by-step into other countries and cultures through short lessons.
Runners Up:
Google Keep, Camscanner, Doodle, MileBug
Minimalist Home Management Apps
Cleaning and Chores
Tody – A simple cleaning management app that helps you break down your cleaning tasks, schedule them, and view your progress as you check things off the list. Similar to many others on this list, but with a really slick and clean interface that's actually fun to use.
Homey – A great app to keep track of chores around the house. It's mostly geared toward families as it has built-in payments to kids so they can learn about money while crossing off their completed chores.
Cozi Family Organizer – Keeps events, activities, grocery lists, recipes, meal plans, and more. it gives you a daily schedule at a glance as well as task lists and other items. Another cool feature is a family journal where you can capture and share family moments from the days when they happen.
Motivated Moms – Daily checklist of housekeeping that breaks down your household projects into small daily to-do lists. You can assign tasks for other people and sort the tasks by person, room, or alphabetically. Includes daily, weekly or seasonal tasks that are already pre-populated so you don't have to spend the time entering your own tasks.
Runners Up:
Inventory
Sortly – The Sortly app is geared toward business for inventory management, but is just as powerful in your home. It allows you to scan just about any item and keeps them organized in the app so you know exactly what is in your house, storage or even a second property. You can save warranty information, set reminders for servicing, or use the inventory and photos for insurance claims if something gets broken or stolen.
Centriq – One of the best apps for keeping your home organized and your paper files decluttered. You simply snap a picture of home electronics, tools, appliances and more. The app will find user manuals, warranties, how-to videos, and other information that you may need, but would like to get rid of. Beyond accessing important documents, one of the coolest features is being able to see all of your appliances, tools and electronics in one organized place. It can help you to keep tabs on what is in your home and locate good candidates for decluttering.
No Waste – A food inventory list. Scan items and they are automatically added to see what you have available. You can move items between lists or sort by name, category or expiration date. It helps with shopping lists and to declutter expired or expiring items so they aren't wasted.
Runners Up:
Nest Egg, Encircle, Pantry Check
Home Organization and Improvement
Bright Nest – Gives you recommendations customized for your house to help with organization, cleaning and home improvement. It also provides a lot of interior design ideas and DIY projects. Great for inspiring home maintenance or improvement, but not as good of a task list as Motivated Moms. Only available on Android.
Houzz – Figure out what you want to do before you spend your precious hours and energy browsing through stores or online shops. Find inspiration for home improvement and decor projects and purchase directly from the app if there are things you like.
SimpliSafe – Probably not what you think of when it comes to decluttering, but having an easier home security experience can give you peace of mind and keep your home running smoothly. Inexpensive and extremely easy to install with no long term contracts, SimpliSafe takes the pain out of automated home security.
Scheduling, Note Taking and To-Do Apps
Home Routines – Home Routines describes itself as an app for "Repeaty Stuff" meaning jobs and tasks that are a routine part of your day or week. They appear in the list on the scheduled time that they need to be completed, then you can mark them off with a simple checklist in the app. Only available on iOS.
Memento Database – If you are more of a DIYer when it comes to your scheduling and organizing applications, Memento Database is for you. It allows you a very customizable interface to track, schedule and manage anything in your life.
ToDoist – I currently use a combination of Evernote and a physical Bullet Journal, but I used Todoist for about 4 years and loved it. It's the simplest, yet most effective to-do list app that I have ever used.
Evernote – Evernote allows you to keep any kind of note, file, image, etc. in a very easy-to-use interface. It allows for tagging, sorting and collaborating with others to update notes in real-time. My favorite part of using Evernote is that it syncs across multiple devices, so you can keep all of your notes in one place.
Runners Up:
Outsourcing and Automating Apps
Handy – Sometimes, you get to the point where you just need to outsource. Handy is the easiest way to find home cleaners, handymen, moving help, landscapers, and more. Saving time and cutting down on unfinished projects is one of the best ways to cut down on the big types of unusable stuff in your house.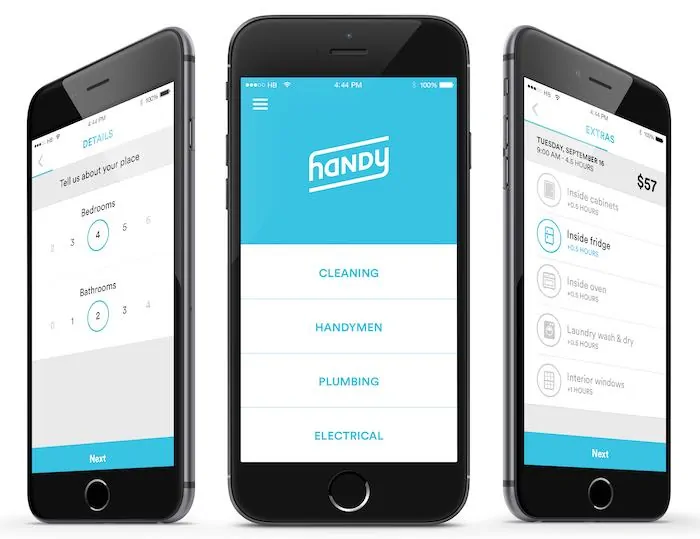 Trusted Housesitters – when you leave home, you can spend an inordinate amount of effort planning to maintain your home. It's also tough to ask friends or family to cover you for a long trip. Enter Trusted Housesitters, where you can hire vetted people to come help with your home, pets and even tasks while you are away. As a bonus, if you're looking for an easy side hustle, Trusted Housesitters is a great option.
TaskRabbit – A service like Handy, but for literally anything you can think of. Need someone to pick up your dry cleaning? Want some stuff hauled away? Want someone to organize your closet? Post a task and have it done quickly and easily.
Runners Up:
Digital Decluttering Apps
Desktop.com – Does you desktop slowly but surely end up looking like a Jackson Pollock after a few weeks? Having a cluttered desktop can destroy productivity, waste time and cause quite a bit of stress. That's where Desktop.com comes in to lend a hand by giving you the ability to organize and customize your desktop, plus it follows you from device to device as they have versions for web, desktop, and mobile apps. You can also use it to replace your bookmarks as it will automatically organize whatever links you want in folders and by tags. Plus, they have a free version! We did a review of this app, read our article on Desktop.com here.
PassFab – If you have ever tried and failed to remember a password, get your phone locked, or lost sensitive digital security info, PassFab is the solution. It will store passwords, unlock documents or devices when you don't know the password, and ultimately, save you a TON of time.
NordVPN – Declutter your web browsing experience and protect your privacy by using a virtual private network. You can avoid interruptions from ads following you around and save your private data so you don't have all of your digital experiences cluttered up by tracking pixels and cookies.
Tile – Mostly because I couldn't find a better category for it, but it needs to be included. Tile is a small device (about the size of a quarter) that you can attach to anything and easily locate it through the app. Great for phones, keys, children's items, remotes or anything else that you spend your precious minutes trying to find.
Runners Up:
LastPass, Brave Browser, Unroll.me
Shopping
Instacart – Cutting out your weekly grocery shopping trip and having your food arrive at your door is one of the best services to save time in your home. It includes almost every major grocery store and you can save grocery lists for reordering or build a list and save it for ordering later. It does come with a modest annual fee, but the hours of shopping that you save should be well worth it.
Fetch Rewards – Cut out the clutter of coupon clipping by using the Fetch Rewards app, which will give you cashback on your purchases just for scanning your receipt after a shopping trip. If you purchased an item that had a qualifying sale or discount, you get points that you can redeem for cash or gift cards. Even if you don't buy any qualifying items, you will still get bonus points just for scanning a receipt. This is a great way to cut down on paper waste and still get the deals you are looking for in a grocery store.
Rakuten – Formerly known as eBates, this is another way to stop looking for deals all the time and simply get discounts on almost everything you buy. You can add in-store offers or click their links before shopping online and receive cash back on your purchases. You are able to cash out your balance through Paypal or what they call a "big fat check."
HelloFresh – Get amazing meals that you can cook at home with recipes and ingredients delivered to your door. Choose your frequency and pause at any time. You pick your meals and they show up with the appropriate portions of ingredients so you can prep a restaurant-style meal in 15-45 minutes. Plus, their mobile app is slick and easy to use.
Runners Up:
Business & Personal Finance
Personal Capital – This is alone in the category since it's really the only personal finance app that you need. Personal capital is like a digital financial advisor that tracks all of your accounts including mortgage, auto loans, checking, savings, retirement, and brokerage accounts and puts them in an easy to use dashboard. It will show you a day-by-day snapshot of your net worth, accounts, and debt, which you can track over time to see your progress. They also offer financial advice and savings products if you are interested in getting help managing your money.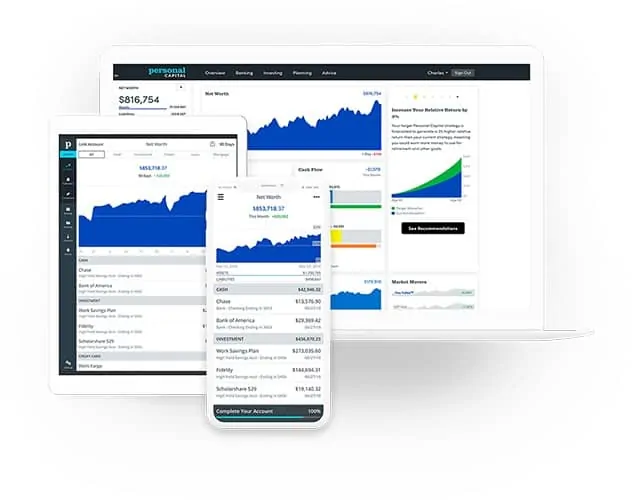 Smart Receipts – Automatically scan receipts and seamlessly organize them into PDF or Excel CSV format for expense reports, taxes, or simple tracking to declutter your papers.
Quickbooks Online – If you are a business owner, entrepreneur or freelancer, Quickbooks online makes it easy to store documents, track invoices and payments and ultimately, manage your business. Another great way to dispose of paper clutter. Includes a subscription cost, but they have a 30-day free trial (and you can deduct it if you are a business owner).
Runners up:
Affiliate Disclosure: As an Amazon Associate, Minimalism Co earns from qualifying purchases.
Minimalism Co also participates in other affiliate marketing programs that may pay a commission to Minimalism Co without affecting the price a customer pays.