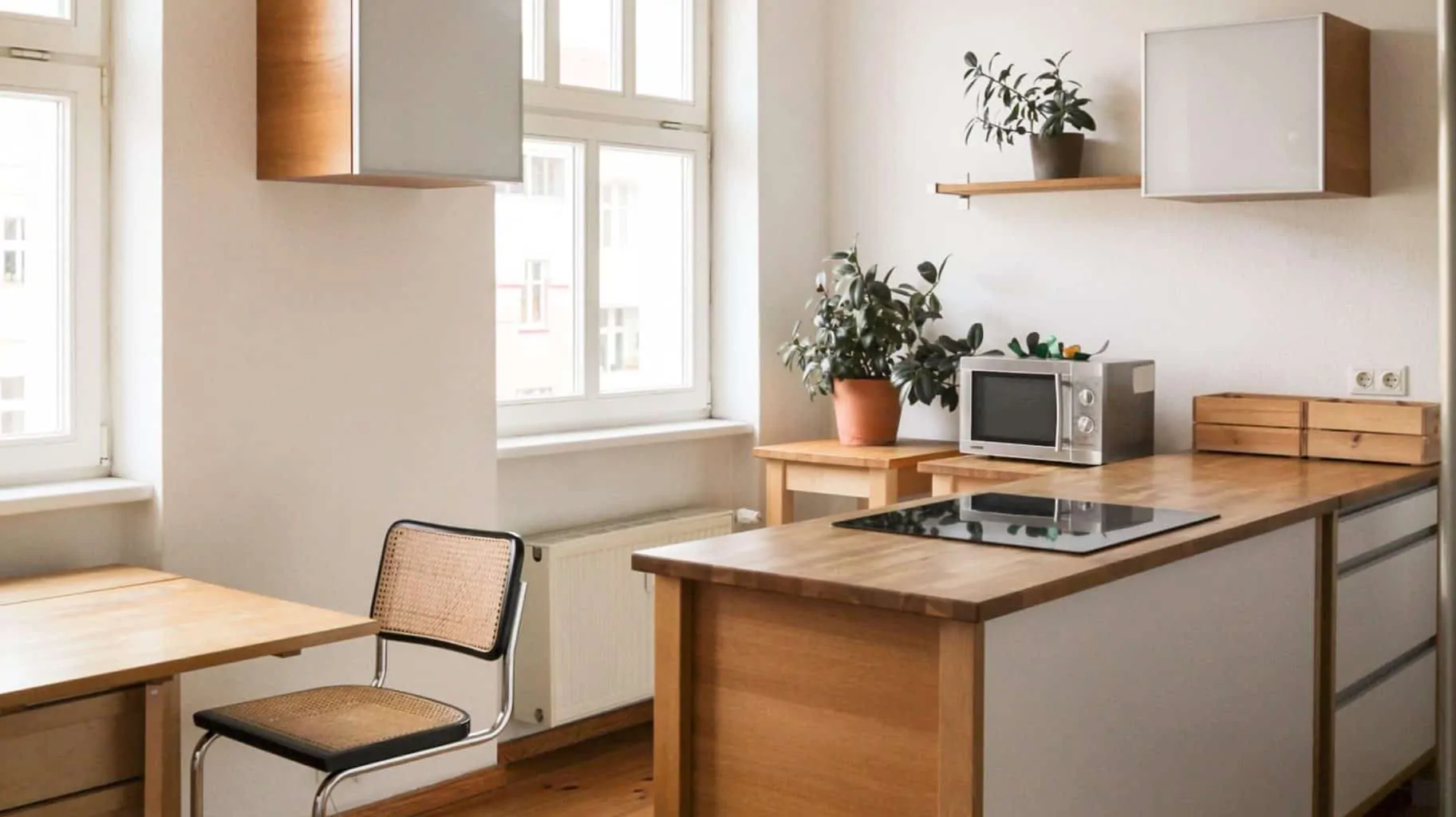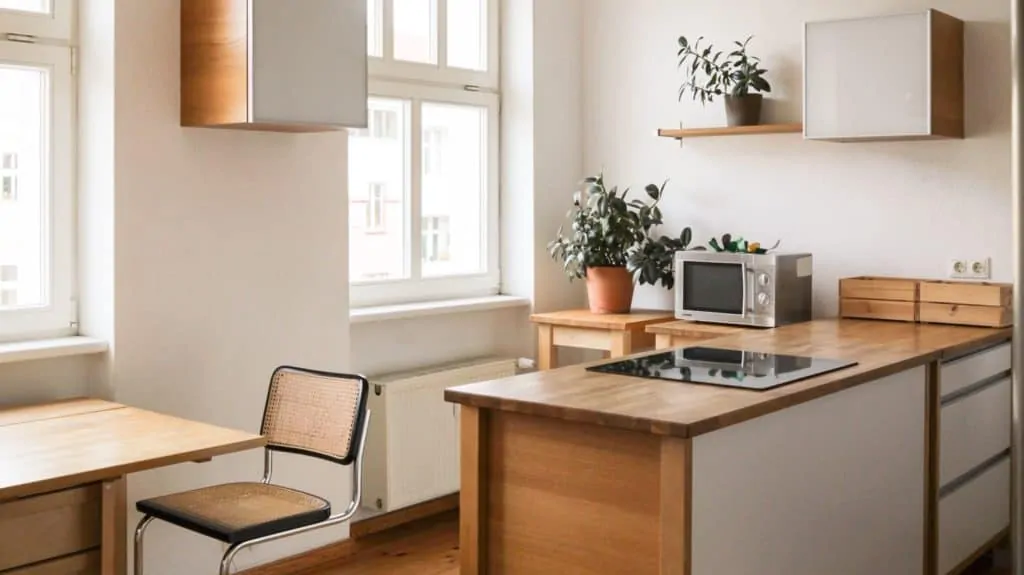 When taking the leap of becoming a minimalist, one of the most daunting tasks is decluttering your kitchen. Between the drawers, cupboards, pantry, fridge, freezer and countertops, you can end up with way more than you realize. Chances are, more than half of the items in your kitchen are rarely ever used. Here is our equipment list of minimalist kitchen essentials to stock your kitchen and declutter everything else that you no longer need.
Food Prep Utensils
Grater – one is enough. I would shoot for a relatively compact, multi-purpose grater that will grate and zest in many sizes. Many can also be used for spiralizing or peeling various fruits and veggies while also grating cheese and doing the job of a Microplane.
Peeler/Brush Combo – Speaking of peeling, another place that you can find a combo device is a peeler/brush. Not only does this give you a brush that can be used to clean a number of other kitchen accessories, but it also makes cleaning fruits and veggies handy before you peel them.
Can Opener/Corkscrew/Bottle Opener – Again, I'm a fan of multipurpose accessories. If you can't find or don't like an item that does all three, at least combine the corkscrew and bottle opener.
Scissors – I find that this is among my most frequently used tools for opening packages, cutting food, and even keeping handy for household tasks. If you get the right scissors, they can replace additional scissors from other areas of your house. Just be sure to get scissors where the two pieces detach so they can be easily cleaned. My favorite is the Zhen Japanese Multipurpose Kitchen Scissors.
Knife Set – This is an area that I feel is actually necessary to have multiple sizes. A block with knives for food prep as well as steak knives may feel like overkill, but you're going to take up space anyway, so you might as well cover the various uses. I like sets that come with a minimalist design and look good if you choose to display them on a counter. Be sure to properly sharpen and maintain each knife so you don't end up avoiding them or having to replace them over time. As another tip, learning to properly use a chef's knife can eliminate a lot of other kitchen items.
Measuring Cups/Spoons – this is a perfect product that falls into the minimalist kitchen essentials category. You need to have them, but they can get unruly in a drawer with multiple sizes. Get a solid glass Pyrex measuring cup that can also be used for heating liquids in the microwave. Grab a set of nesting measuring spoons like the OXO Good Grips Stainless Steel ones and you'll be covered.
Wooden Cutting Board – There are a lot of plastic options out there, but the longevity and style of a solid block cutting board make it the only cutting board you need to own and will last for decades.
Silicone Hot Pad — It can also be used in place of oven mitts and a jar opener.
Here are some of the items that we've avoided keeping around when it comes to food prep:
Garlic press – most of the food you make can probably be prepared with garlic that you dice with a chef's knife
Specialty peeling or coring devices – years ago, before becoming a minimalist, I owned a large device for coring a pineapple… you can guess how often that was used
Mismatched knives
Measuring cups or spoons that don't easily nest together
Citrus juicer
Microplane or grater that only has one size or use
Multiple cutting boards
Cooking Utensils
Since these items tend to stack up quickly and can easily overfill a drawer, it's important to keep these to a minimum. Think about the types of dishes that you cook on a regular basis and determine which of these you actually need. A lot of the sets that you will find online or in stores will come with 14-28 pieces. In my kitchen, we stick to these key six:
Ladle
Tongs
Spatula
Flipper/Turner – versatile for all kind of foods
Serving Spoon – can also be used as a mixing spoon or to cook dishes like stir-fry, rice, smaller vegetables or scrambled eggs
Whisk – get a rigid one that won't bend as much when whisking
We purchased our minimalist kitchen utensils in a set of 5 (adding a separate, but matching whisk) and keep them in a jar on our kitchen counter because the white silicone and beechwood goes well with our mostly white kitchen. I would recommend starting with a small set of these essentials, then if another one-off utensil is needed, purchase a matching style.
What you can declutter from your kitchen utensils:
While a lot of this will depend on the types of food you typically cook, here are a few things that we've managed to remove from our utensil arsenal.
Pasta spoon – you know, the kind that is pretty much only useful for cooking spaghetti. We've found that having a serving spoon, spatula, and ladle cover just about every type of pasta except for longer noodles. Using different kinds of pasta or simply using a fork in tandem with a spoon has been a worthwhile tradeoff to eliminate a rarely-used item.
Multiple sizes of the utensils mentioned – having three sizes of whisks or spatulas may seem necessary, but a medium size of each will be able to handle the vast majority of cooking tasks.
Any specialty cleaning device – items such as a scraper for a panini press, a brush that is specifically used for specific meals, or other cleaning utensils that are not used frequently can likely be replaced with one cleaning device.
A mixer – hand or countertop. If you bake frequently and really need the horsepower, I would stick with a hand mixer to keep your counter clear.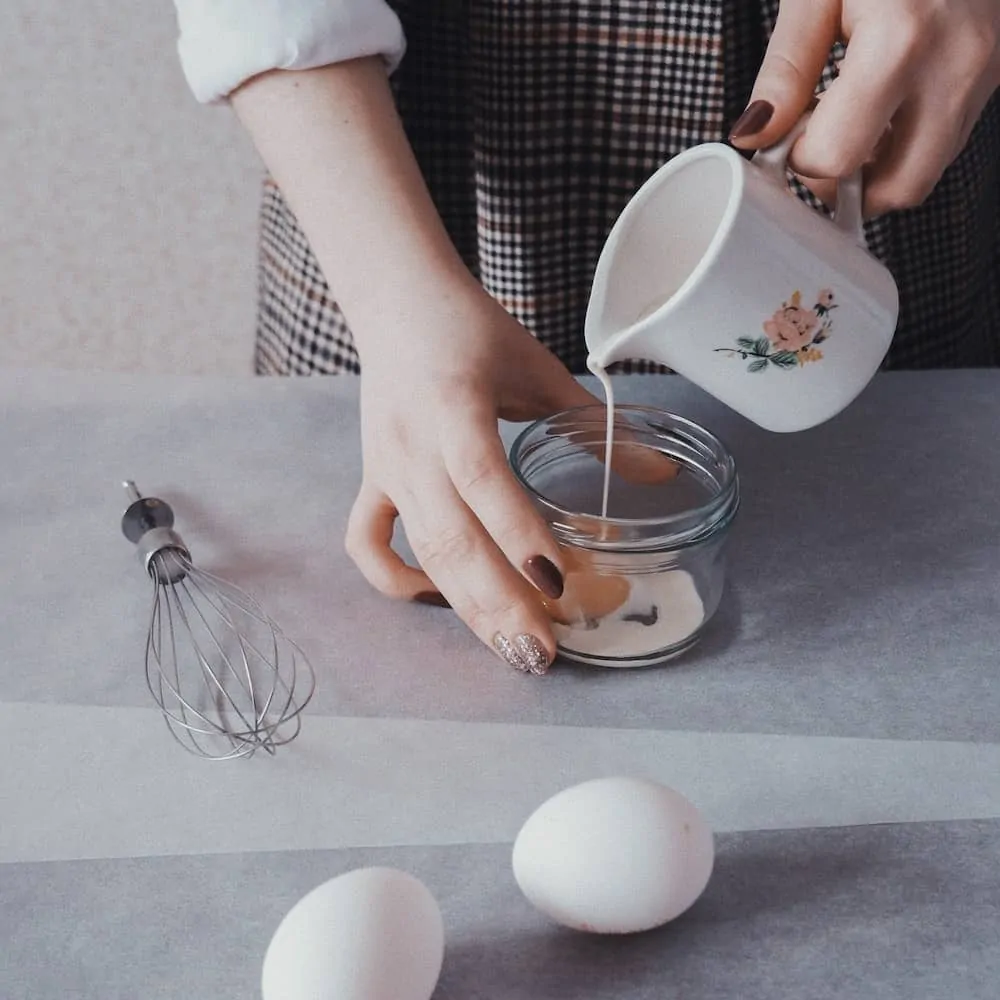 Cooking: Baking Sheets, Pots and Pans
This is an area that can start to take up too much space if you aren't diligent about your choices. There are so many cooking appliances, accessories and gadgets out there that you can easily fill up drawers, cupboards and a pantry with pots and pans alone. By choosing a few minimalist kitchen essentials for cooking, this can be the biggest space saver in your kitchen.
Cast iron skillet – probably my favorite pan to use for cooking. Cast iron pans are nearly bomb-proof and are great for just about any kind of food. They are especially handy if you like cooking meats such as pork chops, steaks or chicken in the kitchen.
Silicone handle pad for cast iron skillet – the link above to the skillet comes with a handle so you won't burn yourself.
Stainless steel saucepan/stockpot – it won't ruin your kitchen to choose something other than stainless steel, but I like the longevity and functionality of these saucepans. Two sizes will typically be enough for almost everything you cook. A 4-quart saucepan and an 8-quart stockpot will do the trick since anything you would cook in a 2 quart will be just fine in a larger pan.
Wok – As more of a this-or-that option, I have a large wok that I use to replace multiple sizes of frying pans or saute pans. Personal choice, but I wouldn't own all of them.
Medium-size mixing bowl
A glass baking dish – we use this frequently for fish or chicken in the oven.
A metal baking sheet
A colander or mesh strainer – I like the mesh strainer because they are typically lighter and take up less storage space. Plus, they get the same job done just as well.
Items you can remove from your kitchen
Dutch oven – how often do you really use this?
Muffin tins – or this?
Additional sizes of stockpots, saucepans or saute pans – take up a ton of space and in most cases, you won't need them.
Multiple mixing bowls – Unless you frequently cook multiple dishes at a time that require mixing, you can get by with one
Salad spinner – I don't think I need to explain this one
Dining Utensils, Dishes and Glassware
One set of cutlery – steak knives are already covered as part of the knife set
A few glasses/cups – a set of 16-ounce glasses or smaller cafe glasses are likely all you really need
A few plates (we currently only have 6 plates for 2 people)
Bowls
Coffee mugs
Wine glasses
Kids utensils, dishes and plastic cups – depending on age, you probably don't want your kids using the same dinnerware as you. If you do dishes frequently, you can keep these to a few.
For smaller kids, I love silicone plates and small training forks/spoons.
As they age, plastic plates, cups, forks and spoons will do the trick.
Insulated water bottle – one for each member of the household
Common, but unnecessary items
Specialty beverage glasses – extra pint glasses, mugs, champagne glasses, etc. At one point, I owned six copper Moscow Mule cups (a wedding gift). In the three years they spent in my pantry, they were used once.
Any "fancy" or fine version of the items above
Multiple sizes of bowls or plates – these can be handy, but we're shooting for a minimalist kitchen here, so this is one that we can give up.
Shot glasses – your world, so if you use them, go for it. No judgment here. For those that are not at-home shot takers, you can use a measuring cup to mix cocktails.
Small Kitchen Appliances
When I say small kitchen appliances, I mean the kind that sits on a countertop, in a cupboard or a pantry. This does not include the obviously essential appliances like a refrigerator, oven, stovetop, or dishwasher.
One specialty meal-cooking device – Instant Pot, Crock Pot, rice cooker, dutch oven, etc. The Instant Pot is one of my personal favorite minimalist kitchen essentials because of the versatility and time savings that it offers. The combination of a pressure cooker and slow cooker can make just about anything quickly (and it actually tastes good). That said, if you prefer a slow cooker or a dutch oven, that's fine. However, you probably only need one from this category.
Coffee machine or pour over – Like the specialty cooking device, you can choose which one you prefer to make your coffee. However, owning more than one of a coffee pot, automatic coffee maker (like a Keurig or Nespresso), french press or pour-over is more than you need or will use. We have a full guide to minimalist coffee consumption.
Coffee grinder – If you choose to make coffee from fresh beans, you will need to use a grinder.
A blender – You can go with the top of the line, or a more budget-friendly option, but a blender is something that you will likely use if you enjoy smoothies or cook from scratch often.
A Toaster – If you use it. I personally don't eat a lot of bread, but if toasted items are part of your diet, there aren't a lot of suitable replacements.
Kitchen appliances you can declutter
More than one coffee making device
Electric hot water kettle – Boil water in a pan or heat it in a glass Pyrex measuring cup in the microwave
A rice cooker – While it takes a little more work, cooking this on the stove top is just as good.
Dutch oven/Slow Cooker — these can be great if you use them frequently. Stick to one choice between a dutch oven, Instant Pot and slow cooker.
Panini Press – this one is really hard for me to say, because I loved the one that I previously had. However, I only used it about three times per year, so now I stick to a skillet or saute pan for the same tasks.
A juicer – if this is part of your lifestyle or diet, go for it. For most of us, this is an appliance that seems like a great idea, then sits in a pantry or cupboard for a long time.
Countertop convection/toaster oven – these can be handy, but a microwave and an oven can accomplish most of these jobs, especially if you also have a regular toaster. As an aside, I almost burned my house down a few years ago by attempting to cook pita bread in a toaster oven.
Bread maker – unless you are in the minority who consistently makes bread, this is probably just taking up space.
Food Storage
I'll try to avoid consumables (food, seasoning, etc.) here since we're talking about minimalist kitchen essentials, but there are a couple items that you'll likely have to have in your kitchen.
Spice rack
Food storage containers – I love the OXO Air Tight Food Storage Containers. We keep them in our pantry and while, yes, it's adding more items to your kitchen, it eliminates packaging like cereal boxes, pasta and rice containers, snack boxes, and more.
Countertop bowl for fruits or snacks – We can never seem to find a better place to keep non-refrigerated produce or snacks, so we keep a fruit bowl on the counter.
One set of plastic food storage containers – Disposable Ziploc, Tupperware or Glad will do the trick, but we use the reusable OXO Smart Seal containers.
For most other food storage needs, consumables like aluminum foil, Ziploc bags or plastic wrap can get it done. If anything can be stored without the use of these, I prefer to keep these to a minimum and stick with more sustainable, eco-friendly solutions.
Summary
Hopefully this equipment list has been helpful to you. A few quick guidelines for decluttering your kitchen:
Make this list your own. We all cook and eat food in different ways, so if there is an item that you consider essential that we don't, go for it.
When decluttering, take out all of your items for each category and place them on the counter. Determine what you should keep, sell, donate or give to a friend.
You can borrow. Keep in mind that infrequently used items like a muffin tin or holiday cookie cutters can easily be borrowed from a friend, family member or neighbor. Items that you use once or twice a year should fall into this category.
Make sure you don't stress it too much. This is your kitchen after all. If you get 60% of the way to a minimalist kitchen, you have done a great job. Removing even a few non-essential items from your kitchen will make it a happier space in your home.
Consult with a partner or roommate before decluttering. If you live with others, don't start throwing things away without letting them participate in the process.
Decluttering your kitchen can be one of the best ways to gain momentum in a quest for a minimalist lifestyle. The beautiful thing is that it shouldn't take more than a few hours, or a couple of days (depending on your kitchen size and personal pace). Sticking to these minimalist kitchen essentials (with a few tweaks of your own) will go a long way in cleaning up one of the most frequently used areas of your home.
We wish you the best of luck in creating your ideal minimalist kitchen. We hope that you have a good sense of what you really need and will use frequently in your kitchen. If we missed anything, or you have suggestions of your own, feel free to contact us, or let us know on our social channels.
Affiliate Disclosure: As an Amazon Associate, Minimalism Co earns from qualifying purchases.
Minimalism Co also participates in other affiliate marketing programs that may pay a commission to Minimalism Co without affecting the price a customer pays.