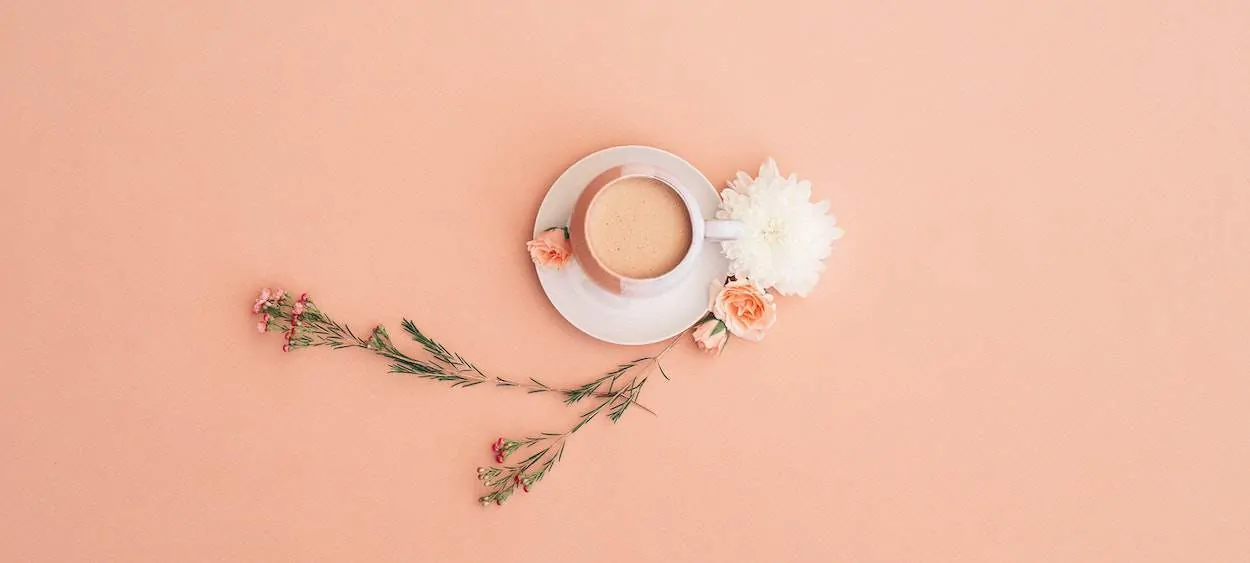 Whether you brew your own coffee every morning or you simply enjoy an occasional cup, as a minimalist, you should consider how to be a sustainable coffee consumer. Our minimalist coffee guide will walk you through 3 steps to consider so you can drink sustainable coffee from home.
The three steps are simple:
Pick a Sustainable Coffee Roaster
Get Coffee Brewing Equipment
Learn How to Brew from Home
Pick a Sustainable Coffee Roaster
There are a few ways you can choose coffee to brew at home, pick one roaster and be a committed customer or find a few sustainable roasters and rotate between each over time. Of course, you can pick a roaster in your own city or one across the nation that you want to try. Keep in mind, if you decide to get coffee shipped to you, this will add extra waste through packaging materials and through emissions with delivery vehicles. Plus, it is so important to support your local community and local shops. So, we strongly recommend you start with your local shops before looking to the internet!
Since we simply cannot tune this article to your local shop, we have partnered with Blue Bottle Coffee to bring you this article with their products and coffee. We love Blue Bottle because they stand for fresh coffee and sustainability. You can rest easy with your online purchase as Blue Bottle has committed to making financial contributions toward a methane digester to offset the greenhouse gases emitted through shipping. Along with that, they are a global shop with locations in Northern California, Southern California, Boston, New York, Washington D.C., Tokyo, Kyoto, Kobe, Seoul and Hong Kong. So, you may live close enough to visit one.
Sustainability
There are a few things to look for in a coffee roaster, whether it is your local shop or a shop you order from online. Of course, if you are looking for a sustainable coffee shop, you should make sure they use sustainable methods. Unfortunately, there is not one specific thing to look for to find sustainable coffee. There are many different certifications and terms you can look for but each has its pros and cons. The certification that really paved the way for sustainability in coffee is the Fair Trade Coffee certification. This is great for brands like Starbucks who purchase huge amounts of coffee beans because it balances the power between the buyer and the seller.
Fair Trade Coffee ensures a minimum purchase price for coffee farmers so big companies cannot bully small farmers into lower prices. This is great but it isn't always good for everyone. That is where Direct Trade Coffee comes into play which is common for specialty coffee shops who want to partner with one or a few farmers who grow very high quality coffee. Direct Trade focuses on building long-term relationships with farmers. Again, this isn't perfect as there is no standardization and no accountability. Lastly, there is the Sustainable Coffee Challenge which is a newer initiative seeking to create a standardized way to source high quality, sustainable and ethically grown coffee.
Price
Another thing to consider is your coffee budget. It is very easy to start spending over $100 a month on coffee, especially when you get coffee at the shop every day. That's why brewing coffee at home can be so important, you will reduce your spending and reduce waste by using reusable mugs instead of paper, to-go cups from the shop. So, when starting to brew your coffee, you will want to find beans priced comfortability for your budget. Keep in mind, brewing at home will come with some upfront costs if you do not already have coffee brewing equipment at home. This means that you will need to consistently make coffee at home for you to see long-term savings.
Taste
The last thing to look for may seem obvious, make sure you actually like the taste. Many shops will allow you to sample their different roasts and even let you take home small samples of beans to brew yourself. Once you find a bean that you like in a shop, ask the barista their brewing method so you can replicate that at home. Otherwise, you can order sample packs from shops (Blue Bottle will even ship you a free trial of coffee, see below) to see which tastes best with your favorite brewing method.
Get Your Minimalist Coffee Brewing Equipment
Before you go on buying equipment, you will need to answer this question – are you going to brew manually or with a machine? Both can produce great tasting coffee although you will typically need to spend more money to get a machine that will brew as high of quality as you can learn to brew with a manual method.
So, whether you are brewing manually or by machine, these are some of the items we recommend.
Minimalist Coffee Scales
When making coffee, it is extremely important to perfect your process and your recipe. One of the best ways to do that is by weighing your beans before you start your brew. There are many options for scales, we recommend you get one that at least measures to the tenth degree. Below are some of our favorite scales.
Hand and Automatic Coffee Grinders
To get the freshest brew possible, you will want to grind your beans right before you brew them. For the manual folks, this means you will hand grind your beans every morning before you brew or if you'd rather push a button and watch the magic happen, you will want to get an automatic grinder. You will just want to make sure that you get a grinder that is easy to change the grind setting on because some coffee beans will require different grind settings.
Machine Coffee Brewers
Again, high quality machine brewers will cost you a bit more. But, if you want something you can turn on right before you hop in the shower and have fresh coffee when you get out, the higher price is well worth it.
Hot Water Kettles: Electric and Stovetop
When using manual coffee brewers, you will want a hot water kettle, preferably a gooseneck kettle for more precise pouring. There are two options here, an electric kettle or a traditional, stovetop kettle. We prefer the electric because it heats up much quicker than the stovetop but both are great! If you find yourself in the woods by campfire often, the stovetop kettle is for you so you can brew while you camp.
Manual Coffee Brewers
There are many different manual coffee brewing methods, here we will talk about the three most popular and most versatile: Chemex, AeroPress and Blue Bottle's very own drip brewer.
Chemex
Perhaps the most versatile manual brewers, the Chemex is a truly minimal coffee brewer. We recommend getting the 6-cup version instead of the 3-cup so that you can get the most range from this brewer as possible. Many other manual coffee brewers limit you to only being able to make one or two cups of coffee. That means if you are having friends over for breakfast, you have a lot of brewing to do beforehand. This is where the Chemex thrives as you can brew up to six cups or one cup for yourself.
AeroPress
This is the best brewer if you are a nomad as AeroPress is one of the smallest, lightest weight coffee brewers around. Some say that this is the ultimate minimalist coffee brewer simply because of the amount of space it takes up. It is great for camping, traveling or for someone who has very limited space.
Blue Bottle Drip Kit
After years of research and development, Blue Bottle has created their own pour over brewing method. This is similar to a v60 brewer with a flat bottom instead of the v60's inverted pyramid shape. This brewer is great for smaller batches of coffee, around 2 cups. So, if you are only making coffee for yourself or one other person this is for you! Plus, you can get a handy kit with a brewing guide for about $25 cheaper than buying all of the items on their own.
Learn How to Brew from Home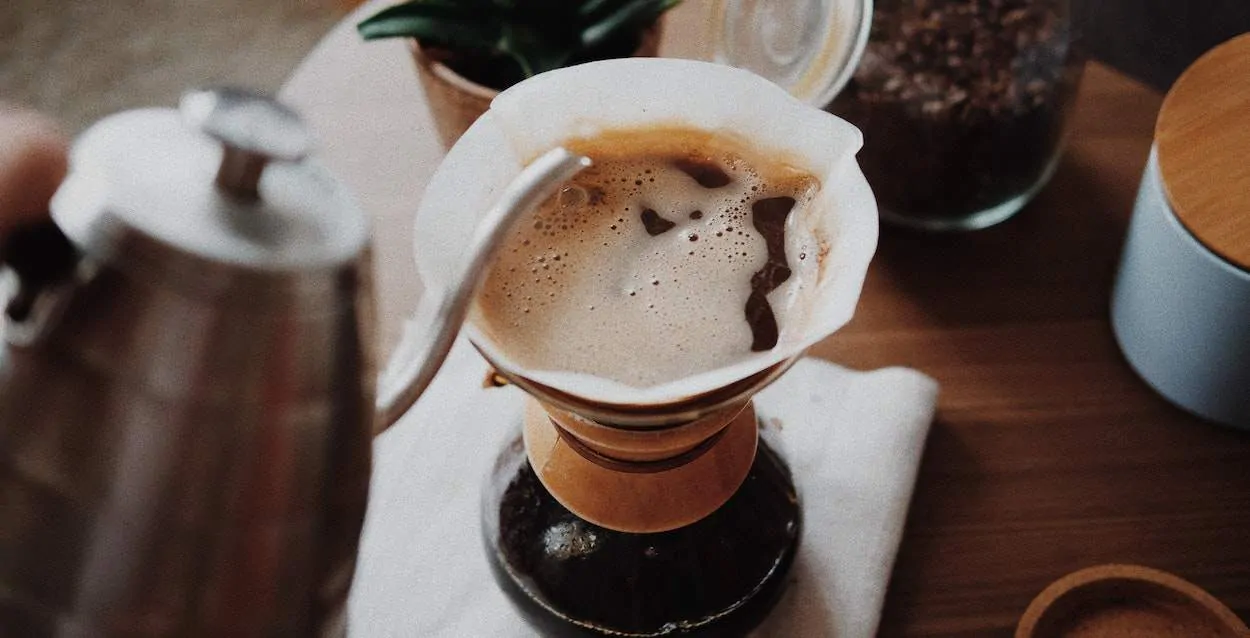 Now that you have all of your minimalist coffee brewing equipment, let's learn how to brew a good cup of coffee from home. There will be variations to this depending on your brewing method but here we will look at a very basic method to brewing drip coffee in your Chemex, Blue Bottle Drip or v60. If you choose to go with an AeroPress, the guide that comes in the box with the brewer works great for basic brews. But, if you want to up your AeroPress game, this video guide gives great improvement on the basic guide out of the box.
We will not be going over brewing methods for machine coffee brewers as they vary from machine to machine. Just keep in mind a few best practices for all coffee brewing:
Use fresh coffee (within 2 weeks of roasting preferably)
Use freshly ground coffee (every minute counts, brew directly after grinding if possible)
Grind only the amount of coffee you need to preserve freshness
Use the correct coffee:water ratio (check the brewing guide for your machine or read on for pour overs)
Pour Over Brewing Method (Chemex, Blue Bottle Drip, v60)
Before you begin brewing with your Chemex, Blue Bottle Drip or v60 brewers, there are a few things you will want to get organized:
Coffee
Coffee Grinder
Scale
Hot Water
Brewing Instruments (Chemex, Blue Bottle Drip, v60) and filter
Mug or Thermos
Alright, now that you have everything you need out, let's get started on the steps to a general pour over brewing method:
Measure Coffee and Water

Here is one of the most important steps, with these methods you should brew with a ratio of coffee:water around 1:16 – for one cup of coffee, you would use 16.89 grams of coffee with 270.24 milliliters of water
Keep in mind, different roasts of coffee will taste better/worse with different ratios, play around going from 1:17 or 1:15 to see what you like best

Heat Water

The ideal temperature to brew coffee is between 195 and 205 degrees Fahrenheit
You typically can heat the water to boiling then let it sit for just a minute and it will be perfect brewing temperature, some heat will be lost while brewing so it will be pretty tough to brew too hot when brewing at home
You will want to heat more water than you will need for the actual brewing for a later step

Grind Beans

As stated above, you want to do this as close to brewing as possible, we recommend grinding the beans while your water heats up

Heat Brewing Equipment

Before you start your brew, you should heat up all equipment (including your mug) and rinse your filter – this will help keep your brew within the recommended range of temperatures and rinse away any bad tastes from the filter

Start the Brew: Pour Grinds into Brewer

One little tip here is to create a little indention in the middle of the grinds so that when you start pouring you can soak all of the coffee quickly

Introduce Water: Bloom

Now you will pour the hot water over the ground beans, you will want to start by pouring just enough water in to soak all of the beans but not so much that there is a bunch of water sloshing around
Wait about 30 seconds to allow the beans to wake up and release the necessary gases

Continue Pouring Water

There are many different preferences to how long it should take you to pour the rest of the water, we will let you find that out on your own
We recommend keeping the water in the brewer level as long as you can until you hit your weight limit, then grab a spoon and give it a gentle stir before the rest of the water seeps through

Drink and Enjoy
Perfect Your Craft

This is a very basic guide to brewing through a pour-over, you can get much more technical with your brew if you want, James Hoffman (a master barista) gives a great brewing tutorial that you should check out
To support this site we partner with select brands and may participate in affiliate programs where we earn a small commission for referrals, at no cost to you.