As the world shifts to a work from home culture, it becomes harder for many of us to find the space that we need to thrive in our work. Some people are using an extra room in the house. Others are working from a couch, kitchen, bedroom or even outdoors. Whatever the space available to you, creating a dedicated space for a minimalist home office can dramatically enhance your mood and productivity. In this home office guide, we'll walk through how to clear space, pick the right office design, include the right items in your office and more.
Why is a minimalist home office important?
Whether your work space is an extra room, a dedicated office, or simply a corner of another room in your house, it's important to keep it simple. An office can interfere with your productivity for a number of reasons, including:
Excess clutter
Distractions of a dual use room (laundry, workout facility, kitchen or storage room for instance)
Poor lighting
Lack of house plants, wall art or other design elements
Insufficient space for critical work materials
A space that does not separate work from other household activities
Poor technology (internet, printer, monitors, etc.)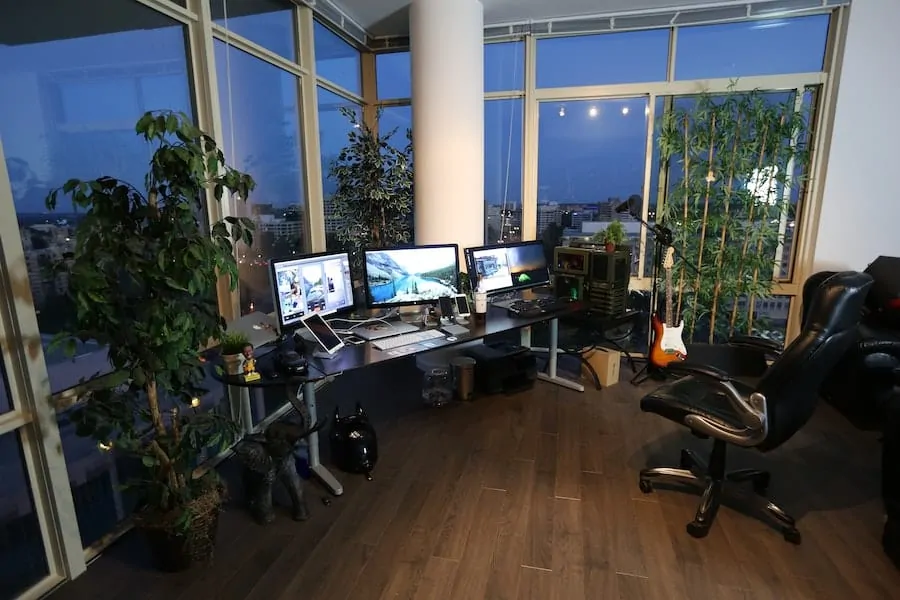 The reason it is important for a home office to be built on a foundation of minimalism is to remove any distractions while following design principles that make you feel comfortable. The goal is not only to create the right balance of feng shui, but also to make it a practical space that is conducive to getting work done.
What should a minimalist home office include?
James Durr of the UK's leading sell house fast group comments: "If you have kids, trying to separate your office work (in a guilt free way!) is crucial to being productive and getting things done."
Before starting your home office design and layout, we must first make sure we get all of the right things in place. While it's hard to create a list that will apply to everyone, there are some home office essentials and supplemental items that should be considered.
A comfortable and stylish office chair – Since this is where you will be sitting for most of the day, it's key to have a chair that not only fits the decor of the room, but is also comfortable enough to spend your time in. I personally prefer white, so I went with an affordable Amazon Basics option. Another good option for an ergonomic desk chair is the highly rated Berlman High Back Mesh Office Chair. Both of these options are under $200 and should be more than enough for most offices.
A desk – There are a lot of different approaches here, but the first choice is between a sitting or standing desk. I'm sure you have heard conflicting studies about the dangers of sitting at a desk all day. While there is no consensus, it's likely that less sitting is better. It's really personal preference. I have a variable height desk that can move up or down for sitting and standing. I typically spend about half of the day standing, then take a seat if I feel fatigued or uncomfortable. While some standing desks can carry a pretty hefty price tag, I like the Varidesk Basic 30, which allows you to adjust the height of a laptop without a full standing desk.
A second monitor – They are more common in some industries than others, you will notice a major difference in your productivity when you start using a second screen. You can keep it simple here and find one that not only meets your technology needs, but fits well in your space without dominating your desk.
Printer/Fax/Scanner – While many professions are moving to largely paperless processes, you may still need to print, fax or scan from time to time. I use a basic all-in-one version from HP, which runs less than $50.
Lighting – Getting the light right in your space can make a huge difference in energy and productivity levels. Whether you like to use a lamp or get natural lighting with windows or skylights, it's important to consider your lighting needs and make sure that you are getting enough. If you are introducing a lamp, find one that matches the overall aesthetic of your workspace and brings you some amount of joy when you look at it (consider LED skirting).
Storage – If you are using a moveable desk and are in a room without dedicated drawers or shelves, it can be difficult to store things like books, folders, pens, cables, documents and others. Making sure that you have some kind of adequate storage solution will keep your desk uncluttered and tidy. There are a ton of great shelf solutions with minimal design that can fit this need.
Wall Art – Minimalist wall art is another way to bring a fresh design element into your home office. Try to determine what your room needs from a piece of wall art. For instance, if your room is naturally dark due to a lack of natural light or dark paint colors, consider a brighter piece. If your room is entirely white and you need to contrast that, find something with color or different tones of gray or black.
White space – A core tenet of minimalism, this can mean different things in your office space. Part of this is going to mean white space in your surrounding areas, but can also mean clear space on your surfaces. Another thing that I always consider is the number of "words" in my space. For instance, having a lot of papers, books, magazines or anything else that causes you to get distracted and start reading it (even subconsciously) can reduce your productivity without even making you aware of it.
Productivity tips for working from home
There are many ideas to get the most out of your time working from home. The way to be productive from your home office will vary from person to person, but there are some basic tips that you can use as inspiration.
Consider your personal working style. Do you prefer to block out all noise or have some background music going? Do you get energy from moving around or sticking to one living space for most of the day? Keeping these questions in the forefront of your mind with your office design will make everything else easier.
Connect face-to-face. It's easy to feel isolated when working from home. While productivity may be enhanced, you often miss out on the water cooler chats and small opportunities to connect socially. Making time for short phone calls to coworkers, turning on your camera for video chats and generally trying to connect outside of email and instant messaging can go a long way.
Separate work from home life. I have struggled in the past to maximize focused, professional time when I'm working from home. It's very easy to get pulled into multitasking with laundry, family, pets, meal preparation, or taking on other small tasks throughout the day. Setting ground rules for yourself and your family to separate your office space from the rest of the house will make it feel as close to an office environment as possible and reduce interruptions.
Be sure to "turn off." On the other side of the previous point, it becomes way to easy to spend too much time in your home office, especially when you can just pop in at any hour of the day to complete tasks. Separate your office time from your home time so that you still get the breaks you need. If you have ideas that come up during off-hours, write them down in a journal and revisit them the next day.
Create rituals to improve your energy levels. I keep a yoga mat in my office and will take 10 minute breaks to move around throughout the day. Creating a go-to activity that you enjoy to improve your energy while in your home office will greatly enhance your ability to stay focused.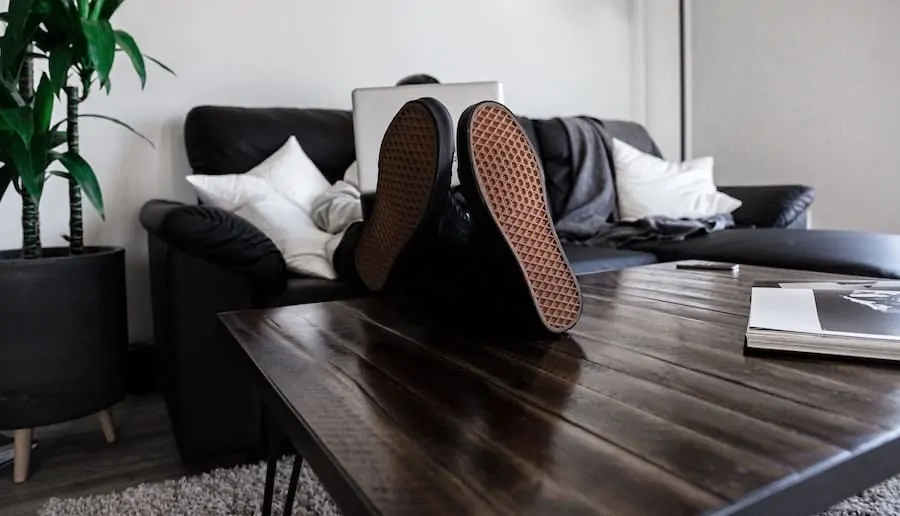 Home office design inspiration
A great place to start when looking to design your home office is Pinterest or Instagram. You can check out our Home Office board on Pinterest for some of our favorite interior designs. Find what you like, then determine what elements to pull.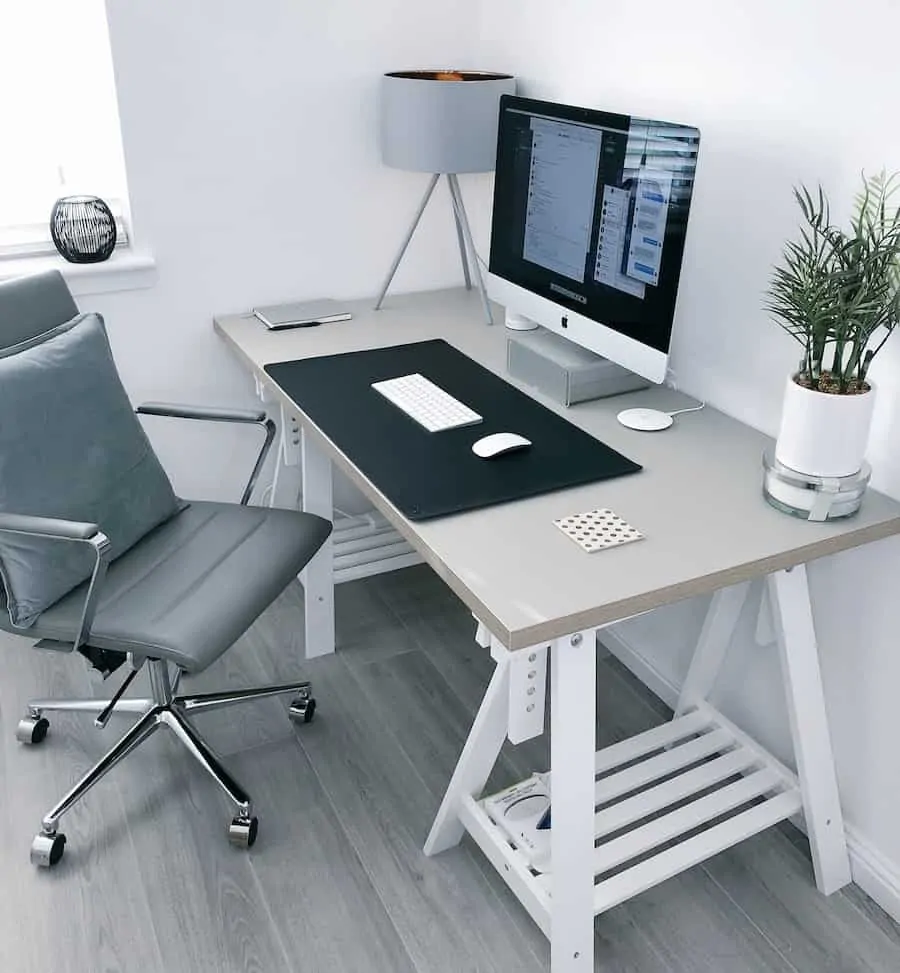 Simplify Your Life Course
Take the 13-step course to learn intentional living by focusing on what is truly important in life while getting rid of the rest.
Affiliate Disclosure: As an Amazon Associate, Minimalism Co earns from qualifying purchases.