The idea of minimalism is birthed from the less is more mentality. Fewer belongings allow for less clutter, and the absence of physical clutter provides room for freer thought. Many fashionistas take the maximalist approach when it comes to their closet — more clothing options seem to equate to a better fashion sense because of diverse outfit possibilities that can be made from the hundreds of pieces that line their racks. But in most cases, a full closet becomes overwhelming, and typically even these maximalist fashion-savvy women gravitate toward the same few pieces they feel most comfortable and confident wearing. The desire to have every piece for any occasion instead becomes a daily mental hassle, and for a working woman, choosing an outfit in the morning shouldn't cause burnout by the moment it's time to walk out of the door at the start of the day.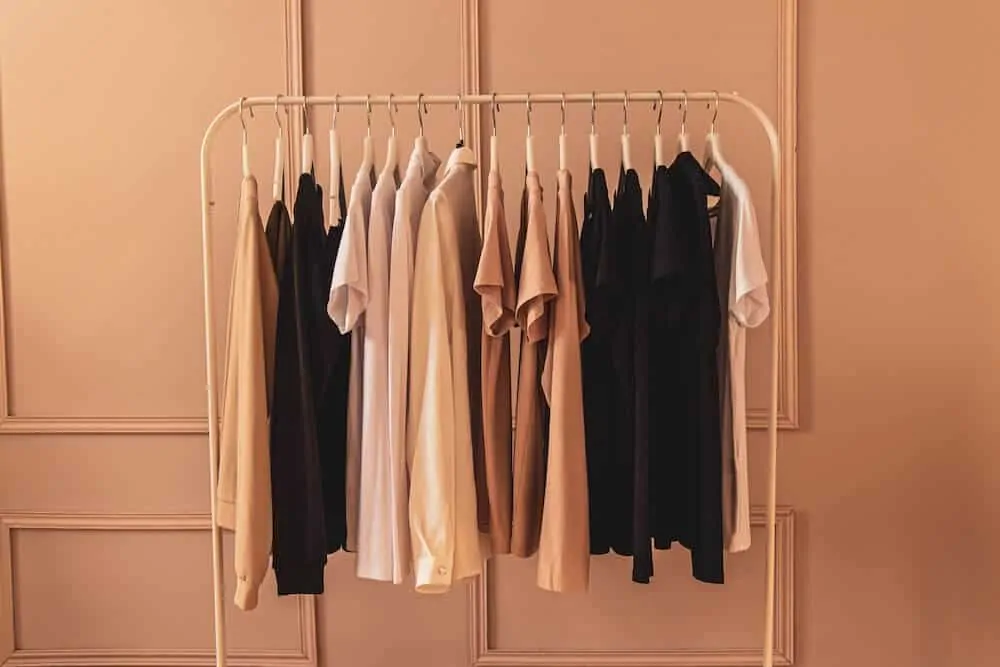 Creating a Business Casual Capsule Wardrobe
A minimalist's wardrobe is utterly unique in its simplicity. Timeless pieces, sleek tailoring and muted colors are the key ingredients to a minimalist collection. For those who want to weave minimalism throughout their wardrobe, it's necessary to invest in versatile pieces. To have a beautifully curated capsule wardrobe for work, you have to initially consider which pieces you have that can cross the lines between categories. For instance, do you have a casual linen top you can pair with simple slacks, a blazer and heels to make an office-appropriate outfit? Understanding which pieces in your wardrobe serve both fashion and functionality make adding the staple items needed to pull off a polished, professional look more effortless.
The double-edged sword of minimalist fashion is the price investment of your pieces. To achieve those key ingredients of a minimalist capsule wardrobe for work, you need to consider the many factors that play into those purchases. Are you willing to spend luxury prices for a beautifully crafted blazer that will last through the seasonal changes of the typical fashion calendar? Or do you want to save money in the moment for mass-produced basics? Does shopping from ethical, fair trade clothing brands matter to you? And if so, are you willing to spend a higher price for those items knowing that your money is supporting a brand that prioritizes proper business practices?
For someone venturing into the world of minimalist fashion, it's best to find a healthy balance between the pieces that will withstand the test of time and those simple basics that are necessary to complete a polished minimalist look. Below, we've created a minimalist capsule wardrobe for the work. Some pieces are timeless staples with a price tag to match — others are affordable basics that will help you ease into your future minimalist capsule wardrobe. Even with their differences, each piece is beautiful in its own regard. We wish you the best with the creation and curation of your collection.
Use this Guide to the Predictive Index's 17 Reference Profiles, to calculate success in the workplace.
Tops for a Work Capsule Wardrobe
A minimalist fashion sense is lovely, given the ease of pairing soft-colored garments and flattering silhouettes with each other to make an exquisite-looking outfit. For tops, a staple item is a white blouse. The mantra of 'don't wear white after labor day' doesn't apply much these days, and for a minimalist collection, it's good to have sleeve length options depending on the weather. When looking for a blouse, remember to consider how that piece can be dressed down for an out-of-the-office look. If you're not one for jewelry but do want a piece that can stand out on its own, look for tops with simple detailing, like a bow or exposed zipper. These little details can be the perfect minor addition to a well-crafted look.
Blouses
Tops
Bottoms for a Business Capsule Wardrobe
One of the main benefits of working in the 21st century are a universally relaxed dress code across industries. Of course for some, business professional is still the norm, but luckily there are ways to push some of those boundaries. Jeans in the workplace were once scorned, now they're an item to add to the workplace collection. Tailored jeans are as professional looking paired with a blazer as they are casual looking when worn with sandals. Many brands have taken steps to reinvigorate their denim with sustainable practices, such as cutting back on water consumption and using eco-friendly dyes. Of course, a work pant is a necessity for a capsule work wardrobe, a wool trouser is great for winter days, and a light linen pant in a soft brown shows its versatility during warm days in the spring, summer, and fall seasons.
Jeans
Dress Pants
Dresses for a Work Capsule Wardrobe
Dresses, pantsuits and jumpers are the saving graces for busy mornings. One-piece items and single-color co-ords fit the idea of minimalism perfectly. Dress silhouettes can vary in their shape and size, so consider how a professional blazer or jacket may or may not pair well with the cut of the dress. As was mentioned for tops, the simple construction of a dress or jumpsuit can be made unique with an a-line zipper or tie at the waist. The beauty of minimalist pieces is that they're designed from classic cuts that have withstood the test of time. Trendy pieces are fun, but a wardrobe of ageless pieces is the ultimate goal.
Professional Dresses
Pantsuits/Jumpers
Overcoats to Include in a Business Capsule Wardrobe
The overcoat should be purchased with the idea of versatility at the top of mind. A blazer is the professional jacket of the working world, but it can just as easily cross the line between a client meeting to Friday night happy hour. Recent trends have showcased the blazer as the casual jacket of choice for the everyday woman, so pick yours thinking about how it would look layered over a blouse for a Monday outfit and how it might also pair with a simple slip dress for Saturday errands. The trench coat is another staple item for a capsule wardrobe. As the perfect overcoat for a cooler day, it can also be belted for a jacket-dress look and perfectly paired with knee-high boots. 
Blazers
Jackets
Shoes to Include in a Work Capsule Wardrobe
The professional woman's shoe, much like the professional pant, has seen a greater acceptance regarding look and style. Office shoes aren't the typical cat-heel or sleek pump that adorned the feet of working women some few decades ago. Comfortable shoes are the redemption for a woman on her feet for 8 hours a day with dinner parties and after-work meetings in tow. Loafers have taken women's footwear by storm, indicating that the sleek, flat, leather shoe is no longer just a man's favorite. For those women wanting the additional height of heels, chunk mules have shown that the look of a flatter, platform heel is a shoe design consistent across the decades.
Heels
Flats
Accessories for a Work Capsule Wardrobe
Even a minimalist can delve into the fun of accessories to dress up a simple, sleek outfit. And for the working minimalist, some accessorization is necessary. When a work computer, padfolio, business cards, wallet, and keys are crucial to everyday work life, having a sleek bag to carry those items in is crucial. A large tote is a stylish way to keep all of your belongings in one place, but if you don't want to deal with a sore shoulder at the end of the day lugging your things along, opt for a black leather backpack. The double strap maintains comfort while going between the office and home and the construction and material are simple without being too casual. As a minimalist, chunky jewelry may not be your preference, so think about simple hoops or a thin chain necklace to add the right amount of minimalist class. For someone venturing into the world of minimalist fashion, it's best to find a healthy balance between the pieces that will withstand the test of time and those simple basics that are necessary to complete a polished minimalist look. Make sure to check originality of your luxury garments so that you can really count on them in the long run.
Bags
Earrings
Necklaces
Transitioning Your Wardrobe for Work to Casual Outfits
A bonus from establishing a work capsule wardrobe is many of the items can be worn beyond the workplace.
Oversized blazers are the perfect essential for the work capsule wardrobe that can also polish any casual outfit from a shirt and jeans to even over a sweatsuit during those colder months. Oversized blazers can also be thrown over almost any outfit from a dress, skirt and shirt combination, and other casual outfits you want to add a chic touch to or on the cooler days you would like an extra layer.
Linen and cotton pants are great for office environments and for running errands or spending some time with family. They can be dressed up or down and some are even comfier than jeans, a great selection when you want your outfit to have a little more stretch but would still like to look put together.
Knit sweaters are an amazing addition to your capsule wardrobe, especially if you live in a cooler environment and have a casual to business casual dress code at the office. The polished look is perfect for work yet casual and comfy to wear past the 9-5.
From Work Appropriate to the Weekend
Workwear can also be dressed up for those special occasions and fun nights out. The black blazer and pencil skirt are essential items for business casual to professional work environments and a great way to top off any dinner party and date night outfits.
A classic pair of pumps in a neutral color will also serve you well in and outside the office. From brunch with friends to parties and weddings, a great pair of heels will be key to any special occasion look.
A capsule wardrobe is important to every minimalist. As a working woman, you should be able to stay true to your minimalist attire while remaining comfortable, professional, and stylish. The investment you make for each piece you add to your wardrobe will pay off in the versatility of each piece, whether you're wearing it to a big pitch or on a stroll with your family. The beauty of minimalism is its simplicity in look and feel. As a minimalist, you are honing the beauty of the simple pleasures in life.
Minimalism Co participates in affiliate marketing programs that may pay a commission to Minimalism Co without affecting the price a customer pays.