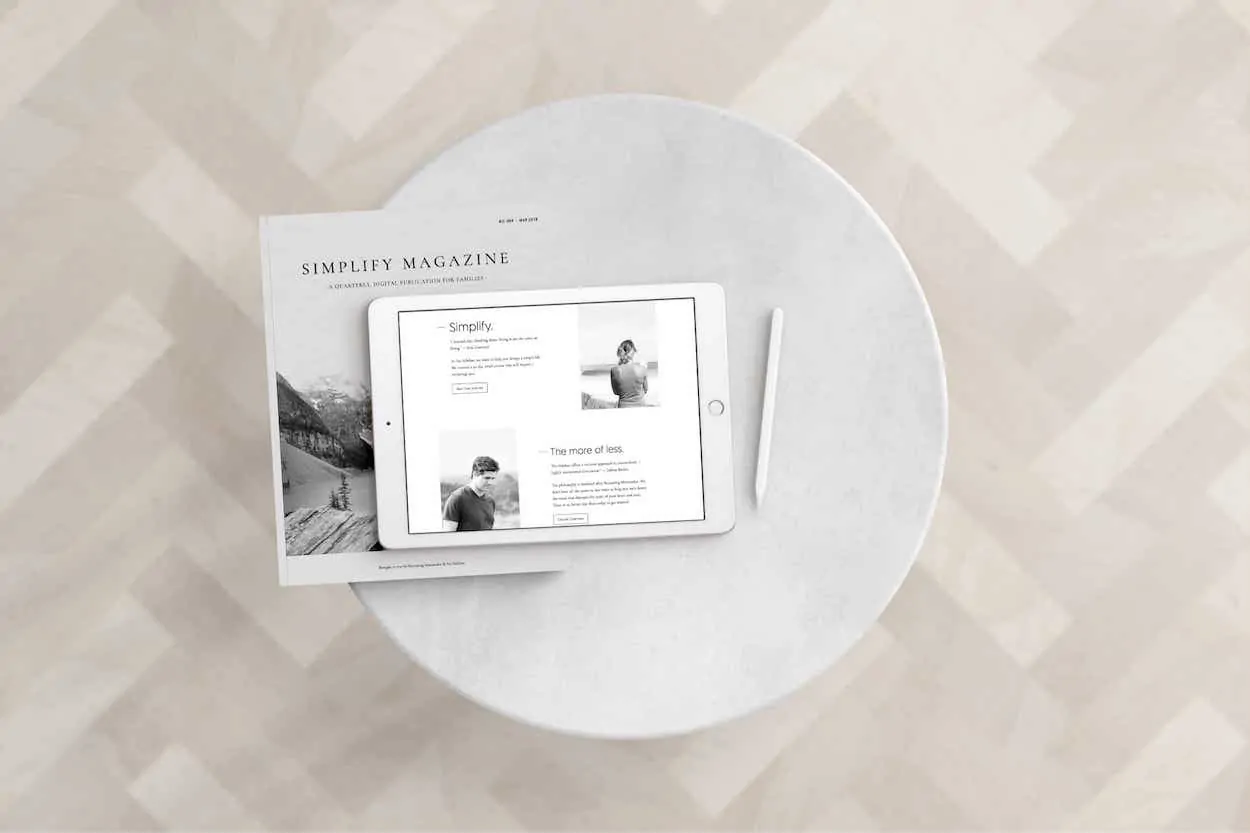 READY TO DRAMATICALLY SIMPLIFY YOUR LIFE? LEARN HOW TO APPLY THE MINIMALIST LIVING PHILOSOPHY TO YOUR LIFE, WORK AND SPACE WITH THIS UNIQUE COLLECTION OF TOOLS FROM MINIMALIST THOUGHT LEADERS.
Sometimes all it takes is that one inspiring resource to give you the information and inspiration you need to change your life for the better. Of course, often it's hard to find that resource.
That is why we've compile a collection of 17 simple living books and courses, from minimalist thought leaders, for you to explore.
No matter if you are a beginner or aficionado, these resources will show you how to apply the minimalist living philosophy to your life, work and space.
They will guide you through a transformational growth process, so you can streamline and elevate your life by learning how to be more intentional.
These resources address the following topics and more:
decluttering
minimalism with kids
eliminating frantic extraneous tasks and commitments
quieting tech noise
establishing a daily routine
simplifying meals and grocery shopping
curating a minimalist kitchen
embracing hygge  
slowing down to live well
Simplify Your Life Course
Take the 13-step course to learn intentional living by focusing on what is truly important in life while getting rid of the rest.
17 BEST MINIMALIST COURSES AND EBOOKS
Joshua Becker – Uncluttered Course
The Minimalists — Essential eBook
Patrick Rhone — Enough eBook
Francine Jay — Miss Minimalist eBook
Courtney Carver — Microbusiness Email Course
Erica Layne — 9 Hard Truths about Clutter You Need to Hear eBook
Tsh Oxenreider — One Bite at a Time: 52 Projects for Making Life Simpler
Pia Edberg — The Cozy Life eBook
Anthony Ongaro — Break The Twitch eBook
Sandy Kreps — Fresh Start eBook
Colin Wright — Considerations eBook
Simplify Magazine — The Declutter Issue
Kathy Gottberg — RightSizing: Reinventing Retirement eBook
Courtney Livingston — The Smart Girl's Guide To Surviving Her Twenties eBook
Allie Casazza — The Ultimate Guide to An Uncluttered Life
Joshua Becker — Clutterfree with Kids eBook
Minimalism — The Minimalist Digital Planner
1. THE UNCLUTTERED COURSE
Joshua Becker is one of the most widely known names in the Minimalism world. His Uncluttered Course is a 12-week online course with videos, interviews, webinars, articles, weekly challenges, accountability, and community. It is created with teh purpose of helping you unclutter your home and find space to live the life you want.
2. THE MINIMALISTS
The best of The Minimalists. This collection of essays has been edited and organized to create an experience that's considerably different from reading individual selections. From simple living, decluttering, and finances, to passion, health, and relationships, Essential is for anyone who desires a more intentional life.
Joshua Fields Millburn & Ryan Nicodemus help over 20 million people live meaningful lives with less through their website, books, podcast, and documentary. The Minimalists have been featured in the New York Times, Wall Street Journal, Boston Globe, Forbes, TIME, ABC, CBS, NBC, FOX, BBC, and NPR.
3. PATRICK RHONE
Enough is a very personal metric. What is enough? Like our center of gravity, each of us must find what is enough by swaying from less to more until a comfortable medium is found. Discover the tools and strategies you need to find what is enough for you right now and provide the flexibility to adjust as the conditions change.
Patrick Rhone is a writer, speaker, and adviser. Through his books, speaking, and one-to-one engagements, he guides people to the balance and peace that comes through mindfulness, introspection, and truth.
4. FRANCINE JAY
This delightful collection of articles provides great inspiration to pare down your possessions. Jay breezes from practical topics, like "What's in a Minimalist Kitchen" and "How Many Shoes are Enough," to more philosophical musings, like what the Japanese or ancient Greeks can teach us about simple living.
Francine Jay, also known as Miss Minimalist, writes about living with less on her website. Francine has helped hundreds of thousands of people declutter their homes and simplify their lives through her books, which have been translated into twenty languages worldwide.
5. COURTNEY CARVER
Ever dream of starting your own business? You'll benefit from this course if you've ever wanted to create a microbusiness, develop a new income stream, start a blog, or approach social media in an intentional way. This course includes 1 PDF with 12 Lessons, 2 inspiring playlists, and more than 34 minutes of audio lessons.
In 2006, Courtney Carver was diagnosed with Multiple Sclerosis, which had a huge impact on her life. She went on to create Be More with Less and the minimalist fashion challenge Project 333. Her books have been read all over the world and her fashion project has been featured in O, The Oprah Magazine, The TODAY Show, and the AP.
6. ERICA LAYNE
A step-by-step guide to applying the minimalist mindset to every aspect of your life. This book includes exercises and activities to apply minimalism to your family, career, home, money and relationships. It's a quick read and a great introduction, or a good reset for those who have already begun their journey.
Erica Layne is a sunset chaser, author, and mom of three living in the San Francisco Bay area. She is the founder of The Life On Purpose Movement, where she helps women move from overwhelmed and worn-out to centered and at peace.
7. TSH OXENREIDER
Broken down into manageable chunks, One Bite at a Time provides you with steps, tips, links, and motivation to slow down and simplify. With this book, you'll receive permission to focus on just one thing at a time, until you've got that task down—and then you can move on to the next one. It is practical and do-able.
Tsh Oxenreider is the founder and main voice of The Art of Simple, a community site that celebrates living slow with passion, and is the host of the top-ranked podcast The Simple Show. She's the author of At Home in the World, Notes from a Blue Bike, One Bite at a Time, and Organized Simplicity.
8. PIA EDBERG
This is the original and first published book about Hygge that started it all. In today's world, we're constantly rushing from one thing to the next and are struggling with information overload. Rediscover the joy of the simple things through the Danish concept of Hygge in The Cozy Life. This book will inspire you to slow down and enjoy life's cozy moments!
Pia Edberg is the best-selling author and illustrator of The Cozy Life and Charlie the Cat. Pia was born in the tiny island city of Nykøbing Falster, Denmark.She holds a degree in psychology from Simon Fraser University, as well as numerous certifications in personal development fields.
9. ANTHONY ONGARO
Break the Twitch is all about taking a step back, identifying the Twitch—the impulsive, unproductive responses we have to discomfort—minimizing those distractions, kicking the clutter, and doing more of what matters. If you're tired of your life being left on autopilot and you long to live more intentionally, you need this book.
Anthony Ongaro is the filmmaker and creator behind Break the Twitch: a blog, YouTube channel, and interview-based podcast on minimizing distractions and doing more of what matters. Anthony's work has been featured in places like Fast Company, The Huffington Post, Lifehacker, TEDx, and The Star Tribune.
10. SANDY KREPS
Fresh Start is a must-have for anyone that needs to declutter their home and simplify their lifestyle. Simplicity and green living writer Sandy Kreps offers suggestions to help you get rid of unnecessary items in your home as well as clearing out those extraneous tasks and commitments that keep you moving at a frantic pace.
By taking a moderate approach designed to cut over-consumption, live within your means, and make healthy lifestyle choices, Sandy Kreps helps families cut through the chaos of modern life and find a simpler path. She is the founder of Modern Simplicity.
11. COLIN WRIGHT
Considerations is a book about attaining new perspective, figuring out what you believe, and determining how those beliefs should guide your actions. The book contains over fifty short essays intended to spark new ideas and questions.
Colin Wright is an author, speaker, and the host of the Let's Know Things podcast. He writes for an audience of millions through his blog, Exile Lifestyle, and has published more than 30 books.
12. SIMPLIFY MAGAZINE
THE DECLUTTERING ISSUE
In this issue of Simplify Magazine, we tackle the important issue of living clutter free. The insightful articles were written by professional organizers, storytellers, life coaches, authors, and some of today's leading minds and voices in the simplicity movement. You will find thoughtful and practical ideas on spring cleaning, thinning out your closet, and decluttering your mind. 
Simplify Magazine is a quarterly, digital publication that pulls together experts in various fields to address some of the most pressing needs of the modern family. With over 250,000 subscribers in less than 2 years, it is a highly loved and respected publication. The Decluttering Issue is one of their most popular issues.
13. KATHY GOTTBERG
Most people don't start thinking about retirement until they hit 40, 50 or beyond. But, what if making some simple changes in the way we live today gave us the opportunity to retire earlier and more fearlessly than we expect? If you're worried about your future and are tired of the rat race that seems to lead nowhere, rightsizing might be the best way for you to re-imagine your life — starting today.
Kathy Gottberg is the author of six books and has been writing for over 30 years. Her current passion is blogging at SMARTLiving365 where she shares ideas and experiences that lead to a happier, more rewarding and more meaningful life.
14. COURTNEY LIVINGSTON
You're just seven steps away from knowing everything you need to know about surviving and thriving throughout the most transformative decade of your life. Okay, maybe not everything, but at least the important stuff. This quick, fun read will fully prepare you to take on this very exciting stage of life that is being in your twenties.
Courtney is a born and raised Florida girl who left everything behind except two suitcases and a husband to pursue a life of meaning in East Asia. When she's not tackling new languages and navigating Eastern cultures, she can be found creating digital content on her Instagram, @courtneylivin, where she shares about her travels and adventures abroad.
15. ALLIE CASAZZA
Unavailable outside of Allie's online courses, this power-packed e-book will help you develop a life-giving morning ritual to start each day off right, simplify the time-consuming task of meal planning and grocery shopping, setup simple home rhythms so what needs to get done gets done, change your phone settings to quiet the tech noise and live present, and much more.
Allie Casazza is a blogger, author and inspirational speaker. She believes motherhood and humor should always go hand-in-hand, otherwise you'll never get through it. She has been featured on Huffington Post, Scary Mommy, Family Share, and Good Morning America.
16. JOSHUA BECKER
As parents, balancing life and managing clutter may appear impossible—or at the very least, never-ending. But what if there was a better way to live? Clutterfree with Kids offers a new perspective and fresh approach to overcoming clutter. With helpful insights and inspiring stories, the book serves as a valuable resource for parents.
Joshua is the founder and editor of Becoming Minimalist, a website dedicated to intentional living that was named by SUCCESS Magazine as one of the top ten personal development websites. He is a Wall Street Journal best-selling author and the Founder of The Hope Effect, a nonprofit organization changing how the world cares for orphans.
17. MINIMALISM CO (shameless plug)
Create your daily routine, stay organized, be productive and enhance your creativity with this minimalist online and printable planner available in digital and print-ready formats.
Featuring textured covers, custom abstract art and a simple organizational system, this undated digital planner was thoughtfully designed to offer beauty and utility — everything you need to elevate your life and work.
If you are interested in discovering more minimalist resources, check out our curated list of the best minimalist apps.
Affiliate Disclosure: As an Amazon Associate, Minimalism Co earns from qualifying purchases.